As advances in technology have improved countless aspects of our daily lives, one breakthrough for the dental field is the ability to use robotic technology to improve patient appointments and provide more predictable outcomes by producing same-day crowns. This revolutionary technology is transforming patient's smiles and creating a better, more modern patient experience.
As with any technology, same-day crowns have both pros and cons for the patient and the dentist. Exploring the differences can help a dentist and a patient decide whether using same-day crown technology versus traditional crowns is best for their practice.
Pros of same-day crowns
More accurate design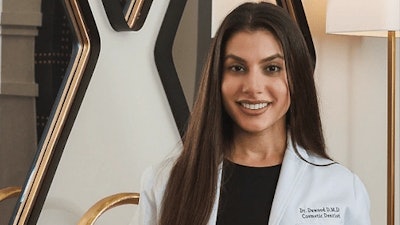 The preciseness of the CAD/CAM technology allows dentists to create a crown that is accurately designed directly by the hands of the dentist and, for the patient, fits comfortably. By using 3D scanning, the patient's tooth dimensions are captured with little marginal error, and the crown is designed specifically for the tooth.
This process is much more accurate than traditional moldings. Traditional crowns require a physical impression, allowing room for distortion. From there, a molding is fabricated from the impression, allowing for a second opportunity of distortion.
Same-day crown technology provides an instant 3D image by scanning photos of the tooth directly from the mouth. It is the most accurate way to view the tooth preparation design close up on a digital screen.
The dentist and patient can see the tooth dimensions on a big screen, and if there are any slight deficiencies, they are easily detectable and can be fixed immediately by redesigning and rescanning the tooth for a better result. Traditional crowns do not provide that type of accessibility to change the preparation design without having the patient make at least two additional trips back to the office.
Prevents the need for a temporary crown
Most patients want to avoid having a temporary crown placed on their tooth due to the lack of comfort. Temporary crowns are rougher and are more likely to come loose, which can lead to accidentally swallowing the crown, the tooth becoming more sensitive, the inability to floss the gums around the temporary crown efficiently, and potential injury to the gums and neighboring teeth.
There are also dietary restrictions when having a temporary crown in the mouth, such as no "sticky" foods, foods that require a lot of chewing, and no hard foods. Same-day crowns bypass the need for a temporary crown by providing a permanent solution immediately on the same day the tooth is prepared for a crown. The patient can leave your office with no restrictions to their day-to-day lives. Gone are the days of having an archaic temporary crown in the mouth for several weeks.
Restores function
A broken tooth affects a patient's smile, speech, eating habits, and, often, their self-confidence. Having the tooth restored as soon as possible greatly benefits the patient's self-confidence, and they can get back to their normal lives more quickly. The patient leaves with an aesthetically durable crown without the need to take precautions when chewing, speaking, and flossing.
Convenient for the patient
The technology allows your patients to make fewer trips to you, saving on transportation costs. Once the tooth is prepared for a crown, the scan is taken, and the new crown is designed on the software immediately, chairside.
Once you, the dentist, are satisfied with the design, the crown is milled, glazed, fired, and ready to be cemented on the tooth within 30 to 40 minutes. This process eliminates the need for multiple appointments. Same-day crown technology offers patients unparalleled convenience for individuals who have busy schedules or less flexible schedules.
Metal-free
As the public has become more health-conscious, we are more aware of what goes into our bodies. Understanding how heavy metals affect our bodies and how it disrupts the flow of the energy within us, patients can make the decision to move away from crowns that are fused to metal, full-metal crowns, and even metal fillings.
Same-day crown technology only supports ceramic restorations. With the durability, reliability, and beauty of ceramic crowns, same-day crowns are a great metal-free choice for patients.
While some patients may prefer gold crowns since they are not a "heavy metal," same-day crown technology does not provide the ability to make gold crowns. Same-day crowns provide many benefits to patients and dentists, however with any technology, there are a few drawbacks.
Cons of same-day crowns
Technique-sensitive
Ceramic crowns require a more technique-sensitive bonding protocol than traditional metal crowns. Any dentist using ceramic crowns of any sort should be up to date on the most durable bonding protocols that will result in the best retention for the longevity of the tooth.
Requires additional training
Ceramic same-day crown technology is still relatively new and is not an easy thing to master. Dentists need proper training in the use of CAD/CAM technology. There certainly is a learning curve when transitioning a dentist from providing traditional crowns to chairside crowns. Receiving this additional training on how to prepare the tooth and design the crown not only benefits your patients but will allow you to offer more services through your practice.
Same-day ceramic crowns are a great solution for many patients needing teeth restoration. However, the procedure may not be for everyone. Always discuss with your patients the pros and cons of each style of crown so they can make an educated decision on the type of material they prefer for their crown.
Dr. Revan Dawood is the owner of Glisten Dental Studio in Gilbert, AZ. Dr. Dawood received her doctoral degree in dental medicine from Midwestern University in Glendale, AZ. She specializes in cosmetic dentistry, dental implants, restorative dentistry, and general dentistry.
The comments and observations expressed herein do not necessarily reflect the opinions of DrBicuspid.com, nor should they be construed as an endorsement or admonishment of any particular idea, vendor, or organization.