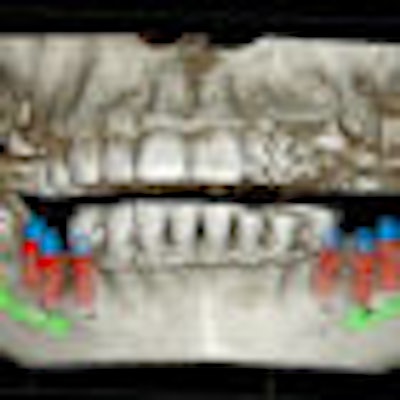 Recognizing a need for vendor-independent training in the basic principles for safe use of cone-beam CT (CBCT), the American Academy of Oral and Maxillofacial Radiology (AAOMR) has launched a level 1 cone-beam CT competency course.
"Individuals have not been able to participate in approved, impartial cone-beam CT courses previously in the U.S. because academy-sponsored training events were not available," said Maria Mora, DDS, an oral and maxillofacial radiologist and chair of continuing education for the AAOMR. "Previously the 'training' has for the most part been sponsored by industry that is dependent on sales of cone-beam CT systems. This is a great opportunity for those who seek a course that will ensure an improvement in their knowledge of this technology regardless of the individual starting point in level of competency."
The one-day course was first held at the ADA annual session in Las Vegas last month and successfully run three times during the ADA meeting, according to the AAOMR. Seven clinicians are involved in presenting the course, which provides ADA Continuing Education Recognition Program (CERP) continuing education credits. A certificate of level 1 competency is provided by the AAOMR following successful completion of an online test conducted after the course.
"The problem with vendor-sponsored events is that there is likely to be a bias."
— Dr. Allan Farman, president, AAOMR
"There has been a tremendous growth in the use of cone-beam computed tomography as an adjunct to dental diagnostic imaging," said Allan Farman, BDS, MBA, PhD, DSc, a professor of radiology and imaging science at the University of Louisville in Kentucky and president of the AAOMR. "While most dental students are at least being trained in the basics of this technology nowadays, it is a new concept to most licensed practitioners, including those who are buying the machines or referring some of their patients to imaging centers for CBCT procedures."
Safe and effective use of any diagnostic imaging procedure involving the use of ionizing radiation requires professional judgment in case and exposure parameter selection, and also maximization of the diagnostic yield from the procedure, he added.
"The AAOMR courses are aimed at achieving this goal," Dr. Farman said.
This course provides basic competency in CBCT image selection, radiation safety, and normal anatomy and variations from normal, including decision-making on patient referral. Additional course levels are to be added starting next year.
"In Canada and many parts of Europe, it is a requirement that courses in cone-beam CT be taken prior to running a system being permitted, but this has not been the case in the U.S.," Dr. Farman said. "This is set to change in the very near future, at least for dentists who wish to be paid for making cone-beam CT images on Medicare patients."
While many cone-beam CT vendors do offer training courses, Dr. Farman believes these courses may not be as objective as the AAOMR course is designed to be.
"The problem with vendor-sponsored events is that there is likely to be a bias, albeit sometimes subliminal, to oversell the utility of a product and to focus on maximization of business return on investment rather than careful selection," he said. "There is also a likelihood that dangers of overuse and of radiation dosage might be downplayed. This is evident from the misinformation that can be found in articles in many dental trade journals that are written by nonexperts."
While the role of the vendor in training individuals on the specific workings of a given system is indisputable, "it is best that an impartial expert provide the training in procedure selection, safety, and interpretation," he said.
Details of the course and registration information are available on the AAOMR website.