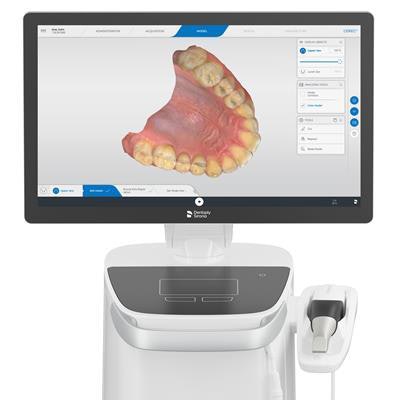 Which intraoral scanner (IOS) brand is the most accurate for single-tooth impressions? Most systems came up short in a new study, published in the February issue of the Journal of the American Dental Association. Only one type of Dentsply Sirona scanner rivaled the accuracy of conventional impressions.
The accuracy of intraoral scans is essential for creating the optimal fit of a restoration. So when researchers from Switzerland tested popular scanner systems, they hadn't predicted there would be major differences.
"Results of our study supported the findings of previous studies that reported difficulties of IOS systems with exact reproduction of [margins]," wrote the authors, led by Moritz Zimmermann, Dr med dent, an assistant professor at the University of Zurich Center of Dental Medicine (JADA, February 2020, Vol. 151:2, pp. 127-135).
To test the intraoral scanners, the researchers first created a mandibular model using zirconia-reinforced glass ceramic to mirror the refractive index of natural teeth. They prepared two teeth (#41 and #46) for full-contact crowns, one tooth (#44) for a mesio-occlusodistal inlay, and one tooth (#36) for a mesio-occlusal inlay.
Next, they took impressions of the model using intraoral scanners from five manufacturers. The researchers repeated the impressions 10 times using the recommendations from each manufacturer.
Intraoral scanners tested in the study
Scanner
Manufacturer
Version(s)
Mode(s)
Trios 3 Pod setup
3Shape
1.18.2.6
High-resolution, normal
Insane
iTero Element 2
Align Technology
1.7
High-resolution
CS 3600
Carestream Dental
3.1.0
High-resolution
CEREC Omnicam
Dentsply Sirona
4.6.1 and 5.0.0
Unspecified
Primescan
Dentsply Sirona
5.0.0
Unspecified
i500
Medit
1.2.1
High-resolution
The researchers compared each system's data for tooth preparation surface areas and preparation margins, two signs of accuracy, and precision. They also compared the surface areas and margins against conventional impressions created with the President 360 heavy and light body material from Coltene.
For inlays and crowns, the results differed significantly among the scanners. Tooth preparation surface areas ranged from 8.3 µm for Primescan to 23.9 µm for CEREC Omniscan.
The results were even more varied for preparation margins. Precision ranged from 14.3 µm for conventional impressions to 48.8 µm for the CEREC Omnicam version 5.0.0. Trueness ranged from 17.7 µm for the conventional impression to 55.9 µm for the CEREC Omnicam version 5.0.0.
"When evaluating local accuracy of tooth abutments, preparation [margins] might be a crucial clinical parameter," the authors wrote. "Positive deviations for the preparation [margin] line might result in restorations being too short on the preparation. Negative deviations for the preparation [margin] line might result in restorations with premature contacts and as a result of restorations being stuck to the abutment."
Conventional impressions generally outperformed all intraoral scanners except for Dentsply Sirona's Primescan. Among intraoral scanners, Primescan had significantly higher trueness for preparation margins and surface areas than all the other systems.
The study had a few shortcomings, including that the researchers couldn't test how the scanners might perform in an environment, such as the effect of patients' movement or saliva on the scan results. They hope future studies continue to test the scanners' effectiveness in everyday scenarios.
"Additional in vivo studies might be necessary to support our findings from more challenging clinical applications of IOS systems," the authors wrote. "However, the results of our in vitro study provide an initial assessment of the different quality of the digitization process for different IOS systems in terms of objects with specific geometries, such as preparation [margins] and translucent optical characteristics."