Aribex, a producer of handheld X-ray products, has unveiled its latest offering -- the Nomad Pro.
As with earlier Nomad models, the unit is fully mobile, so the operator can stand next to the patient to take a radiograph. It features both internal radiation shielding and external backscatter shielding to protect the operator.
What sets the new Nomad Pro apart, the company says, are its color LCD screen, touch controls, preset exposure settings, and other modifications intended to save time. This will especially benefit children, sedated patients, or special needs patients, Aribex claims.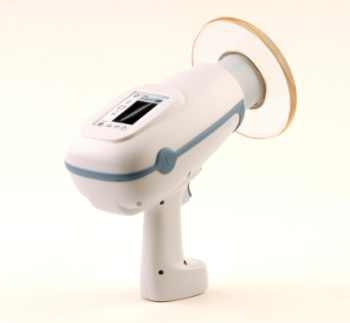 The Nomad Pro by Aribex.
"The Nomad has forever changed the way that dental radiography is performed by allowing an operator to safely stay in the room during a dental x-ray procedure," said Dr. D. Clark Turner, president and CEO of Aribex, in a press release.
The Nomad Pro also boasts a sleeker design and weighs 5.5 lb. Fully charged, it has enough battery life for a few hundred radiographs and works with all digital sensors, standard films, and phosphor plates, the company said.
Launched this week at the Chicago Dental Society Midwinter Meeting, the Nomad Pro is available for purchase by U.S. customers for $7,465.