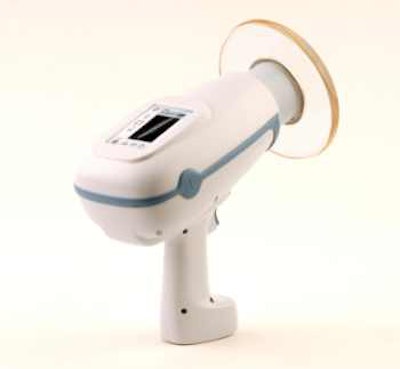 Is your handheld x-ray unit giving you lower quality images? This problem is being investigated in two upcoming studies in the April issue of Oral Surgery, Oral Medicine, Oral Pathology, Oral Radiology and Endodontology.
"At least one state radiation safety department has expressed concern about the quality of images made with a handheld x-ray machine, particularly with respect to patient or operator motion," write the authors of one study.
Both studies used the Aribex Nomad portable x-ray system in their experiments, but came to somewhat different conclusions.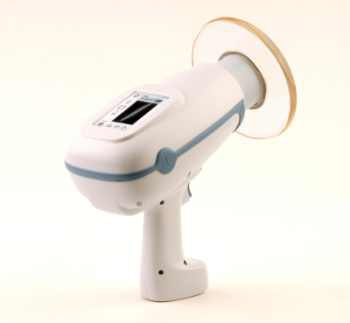 The Nomad Pro by Aribex.
One study conducted at the University of Texas Health Science Center found that there is a loss in resolution when the x-ray device is positioned manually and a high resolution sensor is used.
Researchers mounted a Kodak RVG 6000 size 2 SCMOS sensor on a test stand and radiographed a line-pair phantom with a Nomad x-ray unit mounted on an optical bench. The exercise was repeated with five people of varying sizes holding the unit manually. Each operator was asked to radiograph the phantom 20 times. The experiment was then repeated with the lower-resolution Planmeca Dixi 3 sensor.
The Kodak RVG 6000 had an image resolution of 14 line pairs/mm (horizontal) and 11 line pairs/mm (in the vertical dimension) in the test-stand mounted position. The resolution dropped to 10 line pairs/mm with manual positioning. The Planmeca sensor, on the other hand, had a resolution of 8 line pairs/mm in mounted and manual positions, in both dimensions.
"Our findings confirm our hypothesis that resolution may be lost when manual positioning is used. This effect is observable only with a high-resolution sensor such as the Kodak RVG 6000," concluded the researchers. "In the case of the Planmeca Dixi 3 sensor, there was no significant detectable deterioration in motion blur, owing to the lower resolution of the sensor" (Oral Surgery, Oral Medicine, Oral Pathology, Oral Radiology and Endodontology, April 2008, Vol. 105:4, pp. e55-e56).
The second study compared the image quality of x-rays taken with a handheld Nomad x-ray machine with those taken with a wall-mounted unit (mostly from the Gendex 770).
Twelve patients, who needed a full-mouth radiographic series, participated in the study. Six had their x-rays done with the handheld Nomad machine, while the other six had x-rays taken with a wall-mounted machine.
Each image was evaluated by two oral and maxillofacial radiologists, and one general dentist for diagnostic utility and quality. A perfect radiograph got a rating of 2, an acceptable radiograph got a 1, and an unacceptable one received a 0. The total score for all 220 images was then calculated.
The quality score for the handheld Nomad radiographs, from the three reviewers, ranged between 22 and 60, and between 21 to 55 for the wall-mounted units. The handheld Nomad units had a median score of 33 while the wall-mounted units scored 33.5.
"Image quality for radiographs taken with the Nomad and a wall-mounted x-ray machine appears to be similar in a variety of clinical situations," concluded the authors. "Motion artifact is not a significant issue with the Nomad" (Oral Surgery, Oral Medicine, Oral Pathology, Oral Radiology and Endodontology, April 2008, Vol. 105:4, pp. e49-e50).