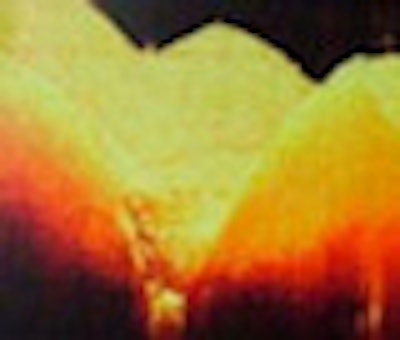 Imagine being able to see inside a tooth with 10 times the detail provided by the best x-ray system on the market. Imagine being able to do this in near real-time, chairside, with little more than the press of a button.
Now, how much would you be willing to pay for all that?
If your answer is around $25,000, you may be in luck. Next-generation laser-based technologies that improve early detection and diagnosis of caries and oral disease are nearing commercialization. While the cost of these devices may cause you to balk, the companies developing them believe their diagnostic advantages will convince you to reconsider.
Optical coherence tomography (OCT) currently leads the pack in next-generation diagnostic techniques being developed for dentistry. It is similar to ultrasound except that it uses light rather than sound waves. By measuring the time delay and magnitude of the reflected light, it creates micron-scale images (see video below). The imaging depths are typically up to 3 mm in hard tissue, which is shallow compared with ultrasound. However, OCT can provide much higher resolution images than ultrasound.
Video courtesy of Dr. Craig Gimbel, Lantis Laser.
Having trouble viewing this clip?
Click here to download the free Flash player.
In fact, with resolution 10 times better than x-rays, the promise of OCT in dentistry is that it will allow for early detection of dental caries, microstructural defects, and periodontal disease in both 2D and 3D. OCT can image both hard and soft tissue, something that x-rays cannot do, and it can image decay in the pits and grooves of the biting surfaces, where 90% of decay begins. Detail unavailable with x-ray is obtainable with OCT, allowing for fast and accurate assessment of restoration quality.
OCT is already a well-established imaging modality in ophthalmology but has yet to find its footing in dentistry -- despite the fact that dental researchers have been experimenting with it since the late 1990s. In fact, the first OCT images of teeth were generated in 1998 (Optics Express, September 1998, Vol. 3:6, pp. 230-238).
Two years later, researchers from the University of Connecticut School of Dental Medicine and Lawrence Livermore National Laboratory, working with a custom-built OCT system, concluded that OCT has several advantages compared with conventional dental imaging. "OCT images exhibit microstructural detail that cannot be obtained with current imaging modalities [and] visual recordings of periodontal tissue contour, sucular depth, and connective tissue attachment now are possible. The internal aspects and marginal adaptation of porcelain and composite restorations can be visualized. This new imaging technology is safe, versatile, inexpensive, and readily adapted to a clinical dental environment," they wrote (Journal of the American Dental Association, April 2000, Vol. 131:4, pp. 511-514).
More recent studies have found that OCT shows promise for applications beyond caries detection. In a study on vertical root fractures in 25 mandibular premolars, researchers from the Erasmus University Medical Center in Amsterdam found that OCT is a promising nondestructive method of diagnosis for vertical root fractures. "We believe that a specially designed endodontic probe will improve visualization for conventional endodontic treatment and could lead to better decision making and elevated standard of care," they concluded (Journal of Endodontics, June 2008, Vol. 34:6, pp. 739-42).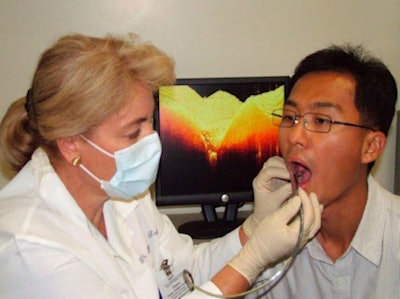 OCT captures cross-sectional images of hard and soft dental tissue up to 3 mm deep into the tissue. These images are then displayed individually in real-time on a chairside monitor and can be saved to the patient digital file. Image courtesy of Dr. Craig Gimbel, Lantis Laser.
Edwin Parks, D.M.D., M.S., director of dental radiology at Indiana University, agrees.
"I see OCT as a good way to detect cracks in teeth versus looking for caries -- and cracked teeth are a huge issue in dentistry," he said. "I would like to see it work for the benefit of the patient so you don't end up doing a $1,000 procedure on a tooth that is doomed. If you have a cracked tooth and it is cracked into the pulp, the outcome is probably not very good. And if you know this ahead of time, you probably won't dink around with doing a root canal and putting a crown on it."
OCT could play a role in orthodontics as well. A recent publication by Cosmin Sinescu et al (Proc. SPIE Int. Soc. Opt. Eng. 6991, 69911U, May 2008) showed how using OCT to examine the outcome of different bracket-bonding materials and procedures could affect stability of bracket retention and minimize failures.
"The biggest horror for an orthodontist is to remove the brackets on the anterior teeth and see white spot lesions buried underneath the bracket and the adherent bonding agent," said Craig Gimbel, D.D.S., former president of the Academy of Laser Dentistry. "OCT will enable you to image through the bracket [before it is removed] to determine what is going on underneath."
OCT also has soft-tissue imaging capabilities, such as determining stages of dysplasia in oral cancer and monitoring periodontal ligaments, Dr. Gimbel noted. In a recent study, researchers from the department of orthodontics at Ulsan University Hospital in South Korea observed structural variations of the periodontal ligament in the maxillary anterior teeth of white rats under different orthodontic forces through the use of OCT imaging (Medical & Biological Engineering & Computing, June 2008, Vol. 46:6, pp. 597-603).
"This may lead to a potential application of OCT for monitoring and determining maximum appliance load forces to prevent the tearing of the periodontal ligament in humans during orthodontic procedures," Dr. Gimbel said.
Commercial development
Dr. Gimbel is also the clinical director for Lantis Laser of Denville, NJ, the only company so far commercializing OCT for the dental market. Lantis has an exclusive license to dental applications for OCT through agreements with Lawrence Livermore National Lab and another OCT developer, LightLab Imaging.
"Our OCT system will pick up the presence of decay much sooner [than other optical technologies] with much less decay present," said Stan Baron, president and CEO of Lantis Laser. "And it provides a cross-sectional image that correlates with with histology, indicating both how much decay there is and where it is located, not just an auditory signal that indicates that some degree of decay is present."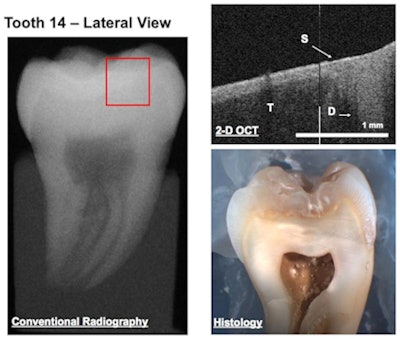 A conventional radiograph, OCT image, and histology of the same tooth [(T) tooth, (S) sealant, and (D) decay]. Note that no decay is seen in the radiograph, while both the OCT image and histology confirm the presence of decay. Photo courtesy of Petra Wilder-Smith, D.D.S., Ph.D.; Dr. Jae Ho Baek; Dr. Zhongping Chen; and Dr. Yehchen Ahn of the Beckman Laser Institute at the University of California Irvine.
Dr. Gimbel believes that OCT brings something to the dental community that it's never had: the ability to visually distinguish between cavitated and noncavitated lesions earlier than ever before.
"This is truly minimally invasive dentistry," he said. "If you are trying to determine whether a lesion is cavitated or noncavitated simply by looking only at the surface, you don't know completely. But OCT allows you to see the microstructural changes such as demineralization early on in the development of the decay. X-rays are a gross image, while OCT is a microstructural image."
This distinction has potentially important implications for a number of dental procedures, Dr. Gimbel added. For example, recent research has shown that it is acceptable to place a sealant in a noncavitated area of decay because the bacteria will die under the composite. But how do you know if the lesion is cavitated or noncavitated to begin with?
"This is what OCT can do," Dr. Gimbel said. "It provides the missing puzzle piece by enabling you to monitor the lesion underneath the composite. There is no way to do this with an x-ray if the lesion is noncavitated."
Lantis Laser has spent the last few years developing a time-domain OCT system for dentistry and had expected to introduce the product this year at a price of $20,000 to $25,000. But in March the company announced that it is now is partnering with Axsun Technologies to upgrade to a faster and more sensitive OCT technology. As a result, Lantis says commercial release of its first OCT system will be delayed until next year. But the trade-off is worth it, according to Baron.
In the long run, however, the price may be a sticking point. According to Greg Smolka, author of the market research report, "Optical Coherence Tomography: Technology, Markets, and Applications, 2008-2012," Lantis is hoping to achieve 5% market penetration in four years after introducing its OCT system. Digital radiography, he said, has taken 10 years to achieve a 20% market penetration in dentistry, despite the technology being very similar to traditional x-ray.
"OCT is a promising technology that can offer new and perhaps better information to the dentist, and there is certainly a large market for such an advanced diagnostic tool, assuming strong clinical efficacy is proven," Smolka said. "However, for OCT systems to reach widespread acceptance in the dental office, they must prove they are worth the expensive price tag by offering significant diagnostic advantages over traditional and other emerging imaging techniques."