DEXIS has launched its new Platinum sensor with a USB connection. The sensor needs no adapters, controllers, or docking stations; it's simply "plug-n-ray," the company said.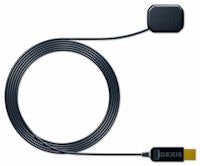 The DEXIS Platinum sensor features a USB connection. Image courtesy of Dexis.
The Platinum is also more comfortable for patients because it has refined beveled corners and rounded casing, and because the new smaller, angled dome on the back of the sensor incorporates the patented WiseAngle cable exit, according to DEXIS.
Its PureImage technology produces 16,000 shades of gray generated by a 14-bit analog-to-digital converter, according to the company. The sensor's high resolution provides more than 20 visible line pairs and a 2.2-megapixel size.
In addition, the sensor's "enhanced quantum efficiency" makes it "very receptive and efficient when capturing x-ray images across a dynamic range of radiation settings," DEXIS said. "This delivers the ability to reduce the number of retakes due to under- and overexposure, as well as ultimately lower radiation dosages."
The sensor works with both the latest intraoral x-ray unit or older models.