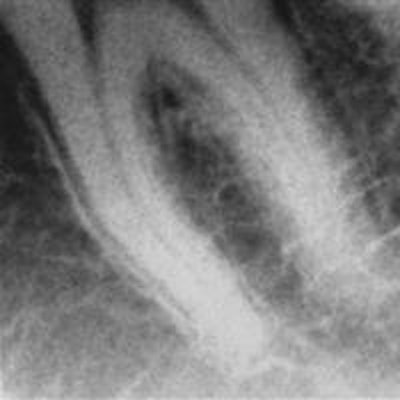 Fluoroscopy -- a diagnostic tool that captures and displays a continuous x-ray image in real time -- has been a standard in the medical field for more than 100 years, currently holding a 35% share of the medical imaging market.
But its adoption in dentistry has been limited by factors related to size, image resolution, and radiation concerns, according to Daniel Uzbelger Feldman, DMD, a member of the faculty at the Temple University Kornberg School of Dentistry and a practicing dentist in Cleveland.
But Dr. Uzbelger is working to change that. He has spent more than a decade developing a dental fluoroscopic imaging system and recently gained a key U.S. patent on the technology. Now he and his company, Real Time Imaging Technologies, are moving toward commercializing the device.
"Despite its early introduction to dentistry in 1896, the use of fluoroscopy in this profession has been inconsistent over the last 55 years due to radiation dosage concerns and the large size and low resolution of the devices used," he and his colleagues wrote in 2010 (Chinese Journal of Dental Research, Spring 2010, Vol. 13:1, pp. 23-29).
In their systematic review, they looked at how fluoroscopy has been used in dentistry since the introduction of image intensification and found that it has been "a useful, but not consistently used, tool in dentistry for over 50 years." Studies have primarily evaluated its efficacy as a diagnostic aid in prosthodontics, orthodontics, radiology, and oral and maxillofacial surgery for such applications as functional evaluation of malocclusions, determination of diagnostic errors in condylar position throughout mandibular movements, and analysis of physiological and nonphysiological movements of the oral cavity.
"Dentists have been working blindly all these years."
— Daniel Uzbelger Feldman, DMD
Other studies have demonstrated how the lower radiation exposure required by a fluoroscopic system enable motion studies, which provide much more diagnostic information than still radiographs, Dr. Uzbelger noted. In a paper presented at the 2010 meeting of the American Academy of Oral and Maxillofacial Radiology, he demonstrated that, when compared with intraoral radiography (digital and film) and cone-beam CT, fluoroscopy allowed an increase in the exposure time without increasing the dose equivalent of radiation received by the skull due to its low milliampere (mA) settings (3.5) and the use of image intensification.
"Preliminary data comparing fluoroscopy to existing dental imaging technologies suggested fluoroscopy's safety for dynamic imaging applications in dentistry," Dr. Uzbelger and his colleagues concluded.
Size does matter
So why hasn't this technology been more widely adopted into dentistry?
"During all these years, the major components have been very large and the resolution has been very poor," Dr. Uzbelger told DrBicuspid.com. "But today, with all the advantages of new technologies, the imaging components are very small and the image resolution good. So we believe now is the right time for the development of this technology. The size can be reduced, the radiation reduced, and the image resolution improved. These have been the three major obstacles."
In addition, current imaging technologies only allow dentists to take x-rays prior to or following a procedure, not during, which can increase the risk of errors, he noted.
"We have been working blindly all these years," Dr. Uzbelger said. "Every year there are 2.2 million root canals that fail in the U.S. alone, and 100,000 dental implants that fail. We believe that if you can have a tool to see the procedure during the performance, we can reduce these errors."
Earlier this month, Real Time Imaging expanded its patent portfolio with a patent that covers its methods for providing a dental fluoroscopic imaging system that enables dentists to use live video imaging to see anatomic structures during these procedures. It also enables static imaging with reduced dose radiation, resulting in less patient radiation exposure, according to Dr. Uzbelger.
"This patent will enable dentists for the first time to visualize anatomy with video during procedures, making it more efficient and safer," he said.
He and his colleagues have also demonstrated a prototype of the system for a proof-of-concept study and will present the research results later this year, Dr. Uzbelger noted. They are now looking for a commercial partner to help bring the technology to market. Because medical fluoroscopy already has U.S. Food and Drug Administration clearance, he is confident that the dental system will be able to utilize the 510(k) process.
"We are working very hard to develop and commercialize this technology, and we expect to be on the market in the next couple of years," he said. "We still have a lot of work to do, but we feel we are on the right track. We feel very fortunate to be the only company working on this exciting technology."