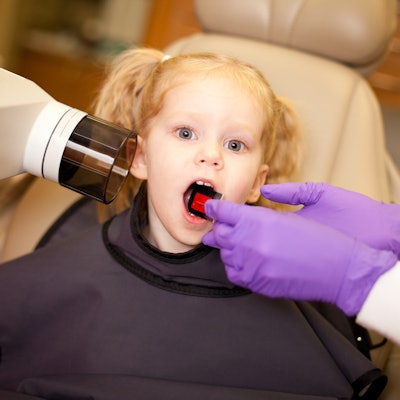 Approximately one-third of caries diagnosed in preschool children using dental x-rays conflicted with assessments using oral exams alone in a new study published on March 31 in BMC Oral Health.
Carious lesions were diagnosed inaccurately in about 30% of baby tooth surfaces when dental x-rays were used, suggesting such x-rays may be unnecessary for tooth decay detection in young children. Clinical guidelines related to caries diagnosis may need to be revisited, the authors wrote.
"Simultaneous association of visual inspection and radiographic assessment for caries detection in preschool children causes more harms than benefits, and therefore, visual inspection should be conducted alone in the regular clinical practice," wrote the group, led by Dr. Laura Regina Pontes from the department of pediatric dentistry at the University of São Paulo School of Dentistry.
The old standard
Dental caries is the most common oral health condition. Untreated cavities in baby teeth affect about 500 million children, making it the most prevalent chronic disease in this population.
Under most clinical guidelines, the diagnostic strategy for detecting tooth decay in children is the combination of an oral health exam and x-rays. These guidelines are often followed due to the assumption that visual inspection alone can miss carious lesions at the occlusal and proximal surfaces of the back teeth.
However, evidence has challenged whether this combined strategy is necessary in diagnosing tooth decay in deciduous teeth. Furthermore, dental x-ray radiation exposure needs to be considered. A report published earlier this year estimated that dental x-rays caused 967 cancers in the U.S., many of which could have been prevented.
The current study compared visual inspections alone with the combined method. In all, 4,383 proximal and occlusal surfaces of the baby molars of 216 children ages 3 to 6 years old were analyzed. Approximately half of the children were diagnosed based on dentists' visual inspections, and the rest were diagnosed using both methods.
Children who needed no restorations and those who had surfaces that were restored at the beginning of the study went for follow-up visits for two years. The treatment decision was made according to the allocated diagnostic method. The outcome was the occurrence of failure, such as a new cavity or a restoration replacement, during follow-up, according to the authors.
A look vs. an image
When all types of interventions were considered, the assessment of dental x-rays led to a different decision than the one reached by visual inspection alone for about 30% of tooth surfaces. In these cases, dental x-rays underestimated the diagnosis and treatment decision made by visual inspection in approximately 26% of tooth surfaces and overestimated the treatment decision in about 5% of surfaces. Surfaces with early carious lesions diagnosed by visual inspection were most often underestimated via radiographs, the authors wrote.
Tooth surface diagnosis via visual inspection and x-rays
Diagnostic comparison
No. of tooth surfaces
Percent of total
Agreement in diagnosis via inspection and x-rays
3,063
70%
Underestimation by x-rays
1,121
26%
Overestimation by x-rays
199
5%
Total adds up to 101% due to rounding.
Additionally, the results confirmed what the authors suspected about false positives. More false-positive results occurred when dental x-rays were used to detect caries. The use of radiographs led to false-positive results in 17 surfaces, compared with three surfaces with visual inspection alone, the authors wrote.
More to learn
Though no specific study limitations were noted, the authors warned that these findings were based on caries detection in deciduous teeth. Therefore, diagnostic methods for detecting tooth decay in other age groups should be examined in long-term studies in the future.
Clinical guidelines on tooth decay should be revised to reflect the current recommendations related to caries diagnosis in children, the authors wrote.
"Visual inspection brings more benefits considering the clinical course of dental surfaces of deciduous molars," they concluded.