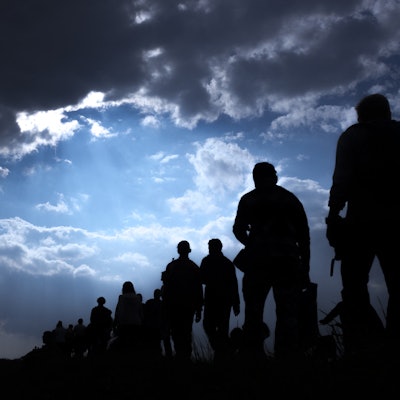 Dental x-rays should not be used to estimate the age of unaccompanied children who arrive at the U.S. southwestern border seeking asylum, according to a commentary published on November 20 in the American Journal of Orthodontics and Dentofacial Orthopedics.
Clinicians should denounce this practice because it isn't reliable, and it raises significant legal and ethical concerns, wrote author Dr. Nadia Laniado from the departments of dentistry and epidemiology and population health at Albert Einstein College of Medicine in New York City.
"I write this commentary in order to inform the orthodontic community of this practice and call upon our professional leaders to uphold our highest professional standards," Laniado wrote.
In recent years, an unprecedented number of people, including unaccompanied minors, are fleeing their home countries and are arriving at the U.S. border seeking asylum. More than 78,000 migrant children arrived at the border without adults during the first six months of 2021, according to Laniado.
When unaccompanied children arrive without documentation, the U.S. government needs to ascertain their ages to determine where they can be housed. Those over the age of 18 are placed in adult U.S. Immigration and Customs Enforcement detention facilities, while children are sent to youth shelters and have access to education and medical care.
Though dental age is not a reliable indicator of chronological age, the U.S. continues to use dental x-rays to make age assessments. However, countries in Europe, including the U.K., use different methods, such as reviewing forearm x-rays, to assess the age of those seeking asylum. In October, the U.K. made the decision to abandon using dental x-rays to determine migrants' ages because they are unreliable, and the British Dental Association opposed the practice.
To effectively assess a person's age, clinicians need to use other physiological markers, such as weight, height, and sexual characteristics, in addition to dental x-rays, Laniado wrote.
Additionally, the lack of information concerning the use of dental x-rays for determining the age of minor asylum-seekers is troubling. It is unclear where x-rays are taken, who conducts dental age assessments, and whether examiners are trained, she wrote.
Furthermore, using dental imaging to assess age raises moral and legal concerns. For example, the Office of Refugee Resettlement has custodial authority over unaccompanied children, so its representatives do not have to obtain informed consent or assent for dental x-rays.
Finally, using dental images for purposes other than treatment alone is problematic, Laniado noted. For instance, if an x-ray reveals dental or osseous disease, are patients made aware of it and what steps are taken to treat it?
"I don't pretend that this is an easy problem, nor one that I have the answers for," she concluded. "What I do know however is that we must uphold evidence-based and ethical practice and call out those who do not respect those principles."