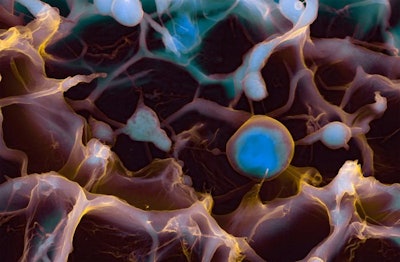 Image courtesy of Hydrogel World by Elena Tsolaki, Empa for SNSF Scientific Image Competition. Image is licensed under CC BY-NC-ND 2.0.
The Bioaction project, which aims to develop bio-hydrogels to speed up healing and stimulation of bone growth, including in teeth, recently acquired a 3.4 million euro ($3.74 million) grant to support the project.
The project's overarching goal is to battle infections and microbial resistance. Over the next four years, researchers on the project will develop bio-hydrogels, which they said will be capable of triggering local remodeling of physiological processes for bone health. The bio-hydrogels will be designed as injectable materials or implant coatings for minimally invasive delivery, the team added.
The team also aims to validate the technology by using clinically relevant models for dental implants and permanent transcutaneous prostheses.
The researchers said that by reducing reliance on extended antibiotic therapies, patients' quality of life can improve as antimicrobial resistance is mitigated.
Four research centers are taking charge of the project: the Institute for Polymers, Composites, and Biomaterials and the Institute for Biological Systems, both part of the Consiglio Nazionale delle Ricerche (CNR; the National Research Council of Italy); the Bioengineering Institute of Catalonia; and the AO Research Institute Davos. The University of Liège and the University of Eastern Piedmont are also joining the project, as well as two companies, Ferentis and INsociety, from a total of five European countries.