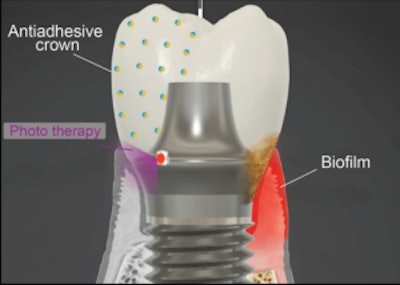 A researcher at the University of Pennsylvania School of Dental Medicine (Penn Dental Medicine) has received a $2.6 million grant to develop an implant that prevents infections that often lead to failure.
Dr. Geelsu Hwang will use the U.S. National Institutes of Health grant to fund early tests of the bacteria-fighting properties of the experimental implant using laboratory cultures of human gum tissue. Ultimately, test implants will be placed in mini pigs in preparation for human clinical trials.
More than 5 million dental implant surgeries are performed in the U.S. each year, according to the American Academy of Implant Dentistry. About 25% of implants fail within two decades, with infection of the surrounding gum tissue and bone being the primary reason for their failure.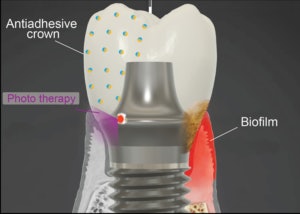 The new implant would fight peri-implantitis in two ways. First, the crown will be suffused with nanoparticles made of a chemical compound -- barium titanate -- which naturally wards off bacteria.
Second, the crown's abutment will contain light emitting diodes (LEDs) that deliver a daily dose of phototherapy to the surrounding gum tissue. Phototherapy gives off light at a wavelength -- most likely near infrared and invisible to humans -- that has antibacterial and anti-inflammatory properties. Piezoelectric material powered by LEDs will convert biting pressure to electrical energy.