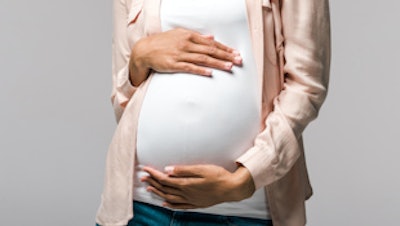 A researcher in New York is studying whether taking intraoral photos of pregnant patients' teeth during their regular obstetrician visits will prevent severe tooth decay in children. The research team will use the technology to monitor patients' oral health.
Dr. Jin Xiao, PhD, an associate professor and perinatal oral health expert at the University of Rochester's Eastman Institute of Oral Health in New York, and her team developed an artificial intelligence (AI)-powered smartphone app, AICaries, which can detect signs of tooth decay. The app will aid in Xiao's study of pregnant women, according to a university press release.
For the study, pregnant women will have intraoral images taken during their routine obstetrician visits and then be asked to install the app so they can monitor themselves and any of their other children for signs of tooth decay. If the expectant mothers have dental pain or other concerns, they can use the technology to obtain a virtual dental visit and then an appointment for treatment, if necessary, according to the release.
"Education and prevention are critical to resolving this significant public health problem," Xiao said in the release. "Pregnancy is an ideal time to promote prevention given the profound influence of maternal oral health and behaviors on their children's oral health."
Good oral health during pregnancy affects birth outcomes. Studies have shown that women who receive dental care before and during pregnancy face lower risks of having preterm or low-birth-weight children, and women with gum disease are at greater risk of the same outcomes.
Xiao's study aims to help educate women about the importance of oral hygiene for them and their children and provides support and advocacy to eliminate other barriers to care, like a lack of access to transportation, according to the university.
The project, SmarTeeth-Smart Connected Oral Health Community: Using AI and Digital Technologies to Close the Gaps in Oral Health Disparity, was funded through the University of Rochester Medical Center's (URMC) Health Equity Program Support Office.
In collaboration with URMC obstetricians and a university computer science data expert, the goal is to treat 1,000 patients in 2023, according to the release.