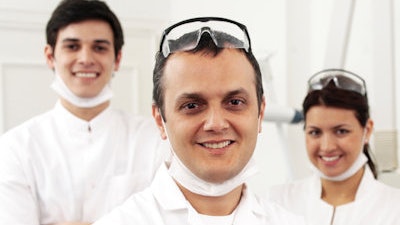 The Doctor of Medicine in Dentistry (DMD) degree may better represent dentistry's current clinical scope of practice than the Doctor of Dental Surgery (DDS) degree, according to a commentary published on March 21 in the Journal of the American Dental Association. Also, the DMD title may give dentistry a role in the healthcare workforce's goal of integrating oral health into physical and mental health, the authors wrote.
"The profession now needs to consider a single degree, the doctor of dental medicine, which better reflects the scope of present-day clinical practice," wrote co-author, Dr. Donald Giddon, PhD, a professor emeritus of developmental biology at the Harvard School of Dental Medicine in Boston.
Currently, there are no publicly available measures, such as U.S. board scores, to confirm the equivalence of DDS and DMD schools, such as national board scores. However, the public continues to perceive that DMD graduates are better trained, particularly in medicine, than those with DDS degrees, they wrote.
Past research has attempted to compare patient perceptions of private clinicians with DDS degrees with mostly DMD faculty practitioners. In general, the DMD dentists were perceived as more qualified than the DDS dentists, according to the commentary.
Also, when patients considered whether a healthcare professional was a physician, DMD dentists came in second to those with medical degrees, the commentary said. Those with DDS degrees followed along with those with a Doctor of Osteopathic Medicine, Doctor of Veterinary Medicine, and Doctor of Podiatric Medicine degree, according to the commentary.
The authors further argued that the DMD degree better reflects the link between oral health and overall health. Though systemic diseases, including diabetes and Alzheimer's disease, have been linked to oral health, it's been historically challenging to integrate medicine into the training and practice of dentists. Additionally, many systemic and mental disorders are manifestations of dysfunction or dysmorphia of the teeth, which are consistent with dentists' increased efforts to become involved in overall healthcare, the authors noted.
Furthermore, the mouth and the anatomic system of teeth are necessary for socialization, quality of life, and survival. Given that, along with greater acceptance of patients, physicians, and the 2020 resolutions issued by the ADA, which called for dentists to play an integral role in the overall physical and mental healthcare activity during the COVID-19 pandemic and beyond, some dentists have started to provide limited preventive primary care, such as chairside screening for chronic diseases, they wrote.
"Therefore, to address the seeming divergence realistically, it is more important than ever to have a unified degree that best connotes the role of the dentist in meeting the global crisis in delivery of oral health care," Giddon and co-author Dr. William Giannobile, DMSc, concluded.