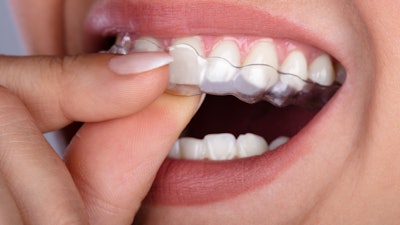 SmileDirectClub has launched its SmileMaker platform in the U.S. The platform uses artificial intelligence to show patients the potential result of treatment.
SmileMaker, which was first launched in 2022 in Australia, received U.S. patent No. 11,633,260 in April 2023. To use the platform, consumers must download the SmileDirectClub app and capture a mobile 3D scan of their teeth, bite, and alignment using the camera of a smartphone. Consumers can see within minutes how orthodontic treatment can improve their teeth, along with a smile plan and estimated treatment time, according to the company.
Currently, the app is only compatible with Apple devices, but it will soon be available for Android devices. Later in 2023, the platform will be available in other international markets.