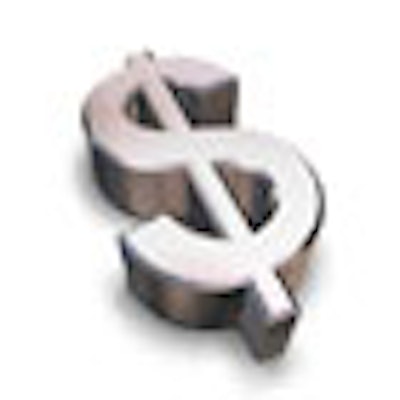 The ADA, already among the U.S.'s most active lobbying groups, significantly increased its contributions to political candidates beginning in 2008, public records show. And while no other dental organization gave as much, several ratcheted up their lobbying in the same time period.
The ADA's American Dental Political Action Committee (ADPAC) gave $2.58 million in the 2007-2008 election cycle, up from $2.07 million in 2005-2006, mostly to candidates for Congress. And the pace looks likely to continue. Already the PAC has given $1.97 million from 2009 through May of this year.
Asked to comment, the ADA released a statement that it attributed to President Ronald Tankersley, D.D.S.: "I don't know why our contributions increased, although that level does go up and down. The fact that healthcare reform was full throttle then might account for it."
The ADA lobbied hard to influence healthcare reform legislation that was finally signed into law March 23, but it failed to achieve its stated highest priorities of requiring states to provide Medicaid benefits for adults and increasing Medicaid reimbursement for dentists.
Three pots of money
Public records show a surge in the separate category of lobbying expenditures for the organizationas well. As opposed to contributions, which go to candidates for their campaigns, lobbying money is spent hiring both staff and independent lobbyists and paying their expenses. The ADA reported spending $2.66 million on lobbying in 2009, up from $470,000 in 2007. This increase resulted from changes in the way the organization reported its spending, not in the spending itself, according to the ADA. (As a 501(c)(6) organization, the ADA can legally devote a percentage of its budget to political activities without losing its tax exempt status.)
"We do not give contributions in exchange for anything."
— ADA
The ADA also spent heavily in yet a third category, so-called 527 spending (named after a legal code), in which groups or businesses buy advertising to influence votes directly, rather than funneling money through candidates. The ADA spent $1.37 million in 2007-2008 in this category, up from $590,000 in 2005-2006. (Many groups and businesses are expected to spend more in this category in the future since a January 21 U.S. Supreme Court decision, Citizens United v. Federal Election Commission, overturned limits on this type of spending.)
The ADA's donations to candidates earned it a ranking of 44 on a list of 100 Top All-Time Donors, 1989-2010 maintained by the Center for Responsive Politics, behind such heavy hitters as the National Rifle Association and the AFL-CIO, but ahead of Wal-Mart and Eli Lilly.
"They traditionally have sponsored a very active political action committee," said Dave Levinthal, communications director for the center. ADA gave candidates $16.8 million during this time, a total that includes state dental organizations, since they are considered ADPAC affiliates for this purpose.
Republicans got more
Since 1989, the ADA has given 54% of its donations to Republican candidates and 46% to Democrats, according to the center, but the breakdown has shifted toward whichever political party has a majority in Congress. "ADPAC does not favor one party over another, either in PAC donations or in lobbying for issues," the ADA statement said. "Contributions are made on a case-by-case basis, with no consideration as to what the overall breakdown will be."
Favoring the party in power is not unusual, Levinthal said. "What we see with many large organizations is that their contributions will align with the party in power," he said.
That's because an organization such as ADA doesn't expect to boost its favorite candidate into office. Federal law sets a $5,000 limit on the amount a political action committee can give to each candidate each year. "A $5,000 contribution may not make the difference in the outcome of an election, but what $5,000 will do is buy an organization or corporation face time with the candidate," Levinthal said.
Often the money buys a plate at a fundraising dinner where the lobbyist can make a case for a change in laws or regulations. "The only expectation that we have concerning ADPAC contributions is that lawmakers will continue to give us a fair hearing; we do not give contributions in exchange for anything," the ADA statement said.
According to the center's records, ADPAC gave no money to a presidential candidate in the 2008 election, though the committee supported both Barack Obama and John McCain as candidates for Senate. In 2004, it gave $1,000 to Democrat John Kerry's campaign for president, and in 2000 to Republican John Kasich, who formed a short-lived exploratory presidential campaign committee.
The biggest single-candidate beneficiary this year was Lee Hawkins, D.D.S., a Gainesville, GA, dentist and former president of the Georgia Dental Association who is running for Congress as a Republican. He received $30,000 from the ADA, according to the center. (The ADA said this amount exceeded the $5,000 limit per candidate because the PAC passed on to the candidate's committee additional checks from individual donors.)
So did the organization get its money's worth?
"It's a necessary way to do business, in my opinion" said Mark Huberty, D.D.S, a Sheboygan, WI, general dentist who gave $1,500 to ADPAC in 2009. "I think they do a good job for all of us. I want to do everything in my power to help the interests of its members and the public by improving healthcare standards."
And Jessica Robertson, D.M.D., a pediatric dentist in Flagstaff, AZ, said she was motivated to give $750 in 2009 partly because she was concerned about the healthcare reform bill. But she wasn't put off by the ADA's failure to scuttle the bill or overturn the McCarran-Ferguson federal antitrust exemption for insurance companies.
"They knew that, in the grand scheme of things, that was not going to happen," she said. "But they were in the loop on things. I think they did a good job making sure they had someone speaking for dentistry."
In its statement, the ADA said it planned no changes in its approach to spending money on politics and had no regret about the way it has spent money so far.
Other dental givers
Among organizations of health professionals who give to candidates, ADPAC ranks second only to the National Community Pharmacists Association in its donations for 2010, and it ranked No. 1 in the 2008-2009 cycle -- ahead of even the American Medical Association (AMA) -- according to the Center for Responsive Politics. (But the AMA and a few other groups have consistently spent more on lobbying.)
Among dental organizations, no one is in the same class as the ADA. But that doesn't mean that others aren't out there trying to influence legislation. Nineteen organizations with "dental" in their name reported lobbying expenses, as did eight with "dentists" or "dentistry" as part of their titles.
Here are the organizations with spending more than $100,000 on lobbying in a single year, according to the center:
The American Dental Education Association (ADEA) hit a high watermark when it shelled out $459,000 for lobbying in 2008, though its expenditures have waned since then.
The American Dental Hygienists' Association reported $220,000 in lobbying for 2009, but is not on track to spend that much this year.
Delta Dental Plans Association had its banner year back in 2000 with $481,000; spending dropped to $395,000 in 2009.
The National Association of Dental Plans, by contrast, reached its peak so far in 2009 with $390,000 in spending.
Copyright © 2010 DrBicuspid.com