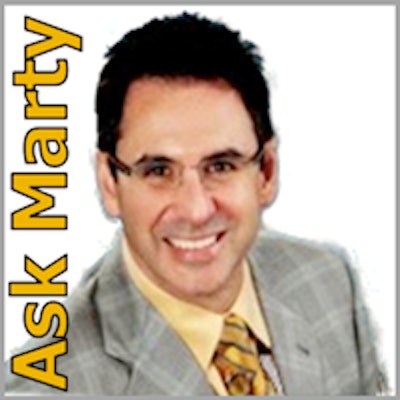 A: Some new technologies have supplemented and replaced my previous way of doing things. The big thing about 2011 is that I can now say there is nothing that I do on a regular basis that I was taught in dental school. This is not to say I don't fall back on the tenets of my dental school education at times, but those teachings are no longer the first way I do things.
So what was the last procedure to change in my office? Extractions. I acquired the GoldenMisch Physics Forceps. Physics Forceps are useful for achieving atraumatic extractions of all teeth. The unique design delivers a powerful mechanical advantage by employing an efficient first-class lever. Think of it the same way you take the top off a beer bottle with an opener.
When the periodontal ligament is traumatized with the Physics Forceps or elevators, hyaluronidase (hyaluronate glycanohydrolase) is released. These forceps in many cases make extractions easier for me and less traumatic for the patients. In this age of regularly placing dental implants, the need to preserve bone is paramount. These forceps help preserve the buccal plate and have made extractions less stressful for me.
I am a big fan of using magnification and illumination for every procedure. I have been wearing surgical loupes for years and have gone on a progression from tethered halogen lamps to battery-powered LEDs, along with increasing my magnification. The tethered halogens would give me whiplash when I would forget to remove the light from my head as I exited the operatory and were expensive to repair the broken fiber.
I was very happy to switch to the smaller and lighter LEDs. Initially, the battery packs were large, but they have since come down in size and weight. The only problem with these portable LED lights and batteries was the cord was like a magnet for any doorknob or object jutting out in my office. I would occasionally watch the battery back fly down the hallway as it snagged on something. This year I acquired the Orascoptic Freedom surgical loupes. They are surgical loupes with a cordless LED light attached. I chose the 4.8 magnifications. They are available in magnifications from 2.5x to 4.8x.
The battery packs are attached to the back of the eyeglass frame. I love the fact that I can now wander around the office with them on or dangling from my neck, and I no longer have any errant battery packs being launched around the office.
The face of oral cancer is changing, and I decided to step up my ability to find pathology in my patients by acquiring both a VELscope (LED Dental) and an Identafi (DentalEZ).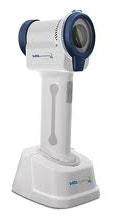 These devices assist me through the use of fluorescent technologies to help identify any areas of potential dysplasia in the mouth. So why did I need both? Because one is an extraoral device and the other is an intraoral device. Each device has its benefits and weaknesses, and I chose both to offer my patients all the possible tools to assist in identifying pathology. I can say that both of these devices have assisted me in detecting potential pathologic areas that required further follow-up and that I may have previously missed with a standard white-light examination. Both the VELscope and Identafi helped to highlight these potential pathologic areas and assisted me in visualizing them.
The use of cone beam 3D imagining technology is assisting me in the treatment planning of implants and retreatment of failing endodontics. I am fortunate that there is a mobile cone-beam scanning service available in my area that will either come to my office or the patient's home or office to take the scan. This makes it easy to use the latest imaging technology without the capital outlay at this time.
I had never done orthodontics in my office, but I started doing short-term orthodontic treatment using the Six Month Smiles program in 2011. The excellent two-day course gave me the confidence to try orthodontics. This easy-to-use system has allowed me to enhance the smiles of many of my patients in a way I had never been able to do before. The orthodontist that I refer to is also happy because I have a better understanding of orthodontics and have referred additional cases to him that are outside the Six Month Smile protocols and beyond my capabilities.
The last thing that changed the way I practice in 2011 is Kerr's SonicFill. SonicFill is a specially formulated bulk fill composite and handpiece combination. Through the use of sonic forces, the composite changes from a very high viscous state to a lower one.
The composite comes out of the handpiece and is fluffy. It reminds me of a soft ice cream machine dispensing my favorite flavor. As the sonic energy dissipates, the composite starts to harden, making for very easy carving of the composite. You can place up to 5-mm increments into your preparations and light cure. This bulk filling greatly reduces the time and effort to place posterior composites.