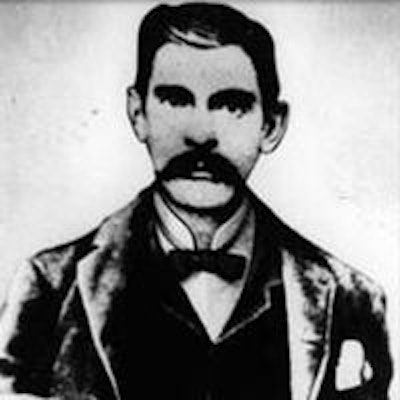 John Henry "Doc" Holliday is America's most notorious dentist.
Wyatt Earp's brother Virgil described Doc Holliday as "gentlemanly, a good dentist, a friendly man" and a "slender, sickly fellow." Another friend, lawmaker Bat Masterson, told a biographer that Holliday "was afraid of nothing on Earth."
Holliday was born in Griffin, GA, in 1851. His father was a physician and politically active in local affairs, serving at one time as mayor of Valdosta, GA. He was born with a cleft palate and partial cleft lip, both of which were surgically repaired when he was eight weeks old. As part of the upper Southern class, he was educated in private schools, receiving a secondary education that included Latin, classical Greek, and French. In addition to his formal education, he was schooled by his father and other male relatives in the use of firearms, as were all well-bred Southern gentlemen of the era.
Holliday's father served as an officer in the Confederate Army. His mother died of tuberculosis a year after the war ended, when he was 15.
Young John Henry learned to play cards from a young mulatto servant named Sophie Walton. "With a deck of cards in her hands, she performed wizardry," wrote Ed Lanham, a Holliday biographer. Under her guidance, John Henry "became addicted" to the various card games of the era. He spent hours practicing with her and developed into a cardsharp.
The dentist bachelor
In 1870, Holliday matriculated at the Pennsylvania College of Dental Surgery in Philadelphia. The curriculum required he attend five months of classroom lectures and demonstrations, followed by eight months of practical experience under the tutelage of a preceptor in Georgia. During his apprenticeship, Holliday performed extractions and filled teeth. Following the apprenticeship, he returned to Philadelphia, resuming his studies for an additional 22 weeks. On March 1, 1872, he received his Doctor of Dental Surgery.
Holliday moved to Atlanta to live with an uncle while he started his dental career as an associate to a prestigious local dentist. At 20, he was described to be about 6 feet tall, weighing about 160 pounds, with blonde hair and blue eyes. He was a "handsome and eligible bachelor," possessing the "charm and good manners considered important to any gentleman of the South," wrote Susan Ballard, another biographer. Throughout his adult life, he was a natty dresser, wearing a freshly starched shirt with a cravat and diamond stick pin. He always wore a hand-tailored black suit and broad-brimmed hat.
Along with his cousin Robert Holliday, he enjoyed riding in the countryside and target practicing with an 1851 Colt revolver. He continued to play cards with Sophie Walton in his uncle's kitchen. Karen Tanner, a distant cousin and author of Doc Holliday: A Family Portrait, relates that he had a "remarkable memory and mathematic skills" that enabled him to gain an edge in card games by keeping track of discarded cards -- essentially becoming a "card counter."
For the next eight months, 23-year-old Holliday led the good life. He practiced dentistry during the day and visited sporting houses in the evening, playing cards. He is also reported to have had an active social life with the young women of Atlanta. But in the summer of 1873, he developed a nagging cough, accompanied by blood-tinged sputum. He was diagnosed with pulmonary tuberculosis, a lethal disease at the time, with no remission or cure, and given only six months to live if he remained in Atlanta. He was told to move to an arid climate to prolong his life. At the time, the medical profession did not realize that tuberculosis was contagious.
On the move
Holliday first moved to Dallas and opened a dental office in partnership with another dentist, Dr. John Seegar. As a testament to his dental skills, most of his biographers note that he and Dr. Seegar entered three exhibits at the annual fair of the North Texas Agricultural, Mechanical, and Blood Stock Association at the Dallas County Fair and took first place in all three: best set of teeth in gold, best in vulcanized rubber, and best set of false teeth and dental ware.
That same year, the U.S. experienced a Great Recession, which affected his dental practice revenues. That, coupled with his declining health and ever-present cough, forced Holliday to turn increasingly to gambling to supplement his income. He also began drinking whiskey as a palliative for his disease.
In 1874, he was indicted for gambling, a violation of the Dallas City Code. He paid a fine of $10 and moved to Denison, TX. He returned to Dallas in late December 1875 to celebrate the new year, became involved in a fracas, and was arrested on a charge of attempted murder (he was later acquitted by a jury). He then moved to Fort Griffin, TX, a town frequented annually by about 2,000 hunters and cowboys -- which in turn attracted drifters, gamblers, and prostitutes. There he was arrested for gambling and drinking.
Holliday left town and went to Denver, where he gained employment as a card dealer under an alias.
In 1876 he moved on to Cheyenne, WY, for a while and then on to Deadwood, Dakota Territory, before returning for a time to Denison and then back to Dallas. He finally relocated to Breckinridge, TX, in 1877, where he was shot in a gambling melee.
Love of his life
After recuperating, Holliday attempted to refocus his life on dentistry, which he practiced out of his hotel room although he still played faro, a popular card game. It was here that he first met Wyatt Earp and hooked up with "Big Nose" Kate Harony, a well-educated 26-year-old who would become the love of his life.
In the fall of 1877, while playing poker, a competitor pulled a gun on Holliday, who in turn thrust a knife "into his brisket." He was arrested and a local vigilante committee "clamored for his blood." Kate devised an escape plan and got Holliday out of town.
The pair went to Dodge City, KS. At the time, Dodge City was the stockyard of America, receiving some 260,000 head of cattle a year, led by about 1,300 Texas cowboys. The cowboys were paid at the end of the trail -- Dodge City -- and went into town seeking liquor, women, and gambling. Here, once again, he set up his dental practice. At the time there were only three doctors in Dodge, and Holliday was the only dentist.
In September of 1878, Holliday saved Wyatt Earp's life when he shot a man who was attempting to shoot Earp, a deputy marshal, in the back. From then on, Holliday and Earp were lifelong friends. Almost simultaneous with this incident, Holiday's health took a turn for the worse, so he and Kate traveled to Las Vegas, NM, a haven for tuberculosis sufferers.
The town boasted several hot springs thought to have curative powers. Again he opened a dental office, but within a few months he was again arrested for operating a gaming table. He pleaded guilty and paid a $25 fine ($780 in current values). It was then that Earp invited Holliday and Kate to join him in Tombstone, Arizona Territory, a new boomtown. In her recollections, Kate wrote: "Wyatt Earp sent a letter to Doc stating that Tombstone was very lively and that Doc could do well there as there was no dentist there." Virgil Earp, Wyatt's brother, had been appointed deputy U.S. marshall, and Wyatt had been appointed deputy sheriff of the county. Another brother, Morgan, also relocated to Tombstone.
O.K. Corral
Toward the end of 1880, Holliday was once again involved in shootings -- he shot a man in the hand and another in the foot. A charge of assault with a deadly weapon and intent to kill was dropped, and he pleadedd guilty to a misdemeanor and paid a $20 fine ($625 in current values). Later that year, he was accused of an attempted stagecoach robbery in which two persons were killed. The stage was carrying $80,000 in silver bullion ($2.5 million in current values). Charges were brought against him, but the case never went to trial for lack of evidence.
Holliday's days in Tombstone culminated in the legendary gunfight at the O.K. Corral. The gunfight catapulted him and the Earp brothers to territorial prominence and eventually, as the myth regarding the event grew, to international fame. Holliday was arrested and tried along with Virgil and Wyatt Earp for the murders of Billy Clanton, Frank McLaury, and Tom McLaury. All three were acquitted.
Holliday then moved to Leadville, CO, and once again ran afoul of the law when, in 1884, he shot and wounded another gambler. He justified his actions, telling the court he weighed less than 122 pounds and had suffered from pneumonia "three or four times." Without shooting his bigger opponent, he claimed, he couldn't protect himself. The jury found Holliday not guilty.
On November 8, 1887, at the age of 36, Holliday died in a hotel in Glenwood Springs, CO, with Big Nose Kate watching over him. Wyatt Earp summed up Holliday's life best: "He was a dentist whom necessity had made a gambler; a gentleman whom disease had made a vagabond."
Daniel Demers is a semiretired businessman whose hobby is researching and writing about 19th and 20th century historical events and personalities. He holds a bachelor's degree in history from George Washington University and a master's degree in business from Chapman University. You can review his other published works at www.danieldemers.com.
References
Ballard S. Facts any good Doc Holliday aficionado should know. Tombstone Times. http://www.tombstonetimes.com/stories/facts.html.
Jay R. Fatal mix-up on Fremont Street. Wild West Magazine. 2012.
John Henry "Doc" Holliday, D.D.S. Ford County Historical Society website. http://www.skyways.org/orgs/fordco/docholliday.html.
Interview with Virgil Earp. Arizona Daily Star. May 30, 1882. http://web.archive.org/web/20090428084917/http://www.angelfire.com/co4/earpgang/interviewone.html.
Lanham EJ Jr. Doc Holliday: The man and the legend. http://www.ejlanham.com/DocHolliday. 2000.
Tanner KH. Doc Holliday: A Family Portrait. Norman, OK: University of Oklahoma Press; 1998.