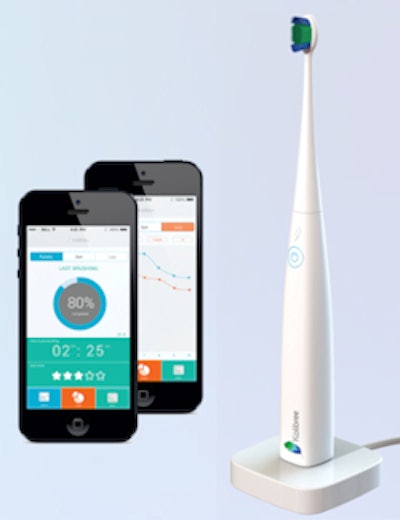 Kolibree has introduced its connected electronic toothbrush at the Consumer Electronics Show (CES) this week in Las Vegas.
The Kolibree smart toothbrush features technology that analyzes a user's brushing habits and displays the information on a mobile dashboard accessible from a smartphone.
Users download the free mobile app and connect via Bluetooth, then every brushing is recorded. The data about how the user brushed get automatically synchronized to the phone, indicating whether the user brushed long enough and brushed the hard-to-reach but important parts of the teeth and gums, according to the company.
The system is designed for families, working with up to five toothbrushes. Users can share the information with their dentist and family, or keep it private. The app displays users' progress with graphs, and children can earn points and badges to encourage them to improve their brushing habits.
The toothbrush will be available starting in the third quarter, but will be ready for preorder starting this summer. Orders will be available initially through Kickstarter, and the toothbrush can be shipped worldwide. The price will range from $99 to $200, depending on the model and will include a free mobile app.