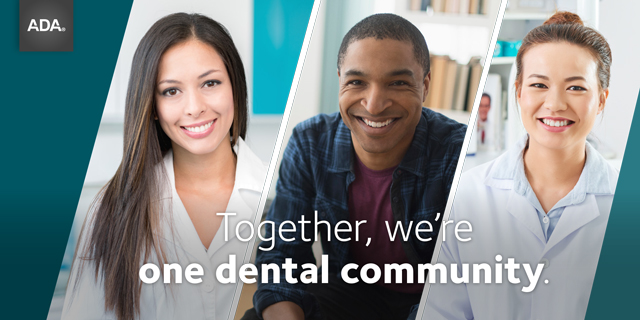 Join us – because together, we're one dental community.
We're in uncharted territory right now and emerging from COVID-19 and all its challenges depends on us working together. The American Dental Association (ADA), side-by-side with our 163,000+ members, is responding.

Since the onset of this pandemic, we've created the ADA Coronavirus (COVID-19) Center for Dentists. This virtual resource center includes weekly digital events, the latest COVID-19 clinical and practice guidance and current analysis of the economic outlook.

Our dental community is also making an impact in Washington, D.C. by pressing Congress to act on your behalf. In fact, we helped ensured the Coronavirus Aid, Relief and Economic Security (CARES) Act included dental practices. This was due to more than 126,000 dentists sending 387,000+ letters to Capitol Hill. That's an amazing accomplishment and shows how strong we are when we come together.

To further strengthen our impact, we're lowering our national membership dues by 50% to make our dental community more accessible. We can't do this without you and the power of our dental community.

You can count on us to continue to advocate for you, your career and the path forward. We know you are working hard on the front lines – thank you for all that you are doing.