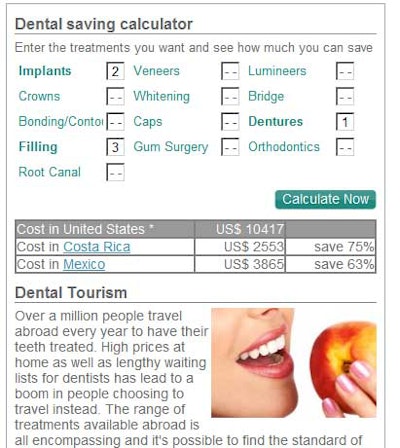 A growing number of U.K., American, and Japanese citizens are including expensive dental procedures in their vacation plans this year. According to Ireland-based RevaHealth.com, a medical tourism search site, nearly a million consumers go abroad every year to have their teeth treated. According to Reva, consumers save as much as 63% on dental procedures performed in Mexico, Hungary, Thailand, and other countries with much lower costs of living and favorable exchange rates.
Dental tourism is part of the larger medical tourism trend that is sweeping developed nations as medical costs continue to skyrocket and waiting lists get longer and longer. From hip replacements and bypass surgeries to breast implants and tooth implants, hospitals in Thailand, India, Mexico, and the former Eastern Bloc offer cheaper, timely, and according to advocates, high-quality medical care. Patients who are willing to travel halfway around the world for an exotic vacation-cum-medical procedure can potentially save a bundle.
According to Reva, medical tourism is a $20 billion industry and growing steadily, with 500,000 Americans alone last year seeking medical treatment outside the U.S. Although there are no hard numbers, dental tourism seems to be going along for the ride. According to Reva, over 40,000 Americans went to Mexico for dental treatment last year, saving an estimated 75% compared to typical fees in the U.S.
"U.S. dental fees are getting higher and higher and that's why dental tourism has grown in the past three or four years," says Helga Vanhorn, who runs a medical tourism service in Nevada with her husband. Most of her clients have little or no insurance, and with a $1000 crown costing only $300 in Hungary, the lure is tempting. How much can patients save? Reva's site sports a "Dental saving calculator." Simply check the procedures you want (such as implants, whitening, dentures), click a button, and the calculator shows you how much you'd spend in the U.S. -- and how much you'd supposedly save going to Costa Rica, Mexico, and other countries.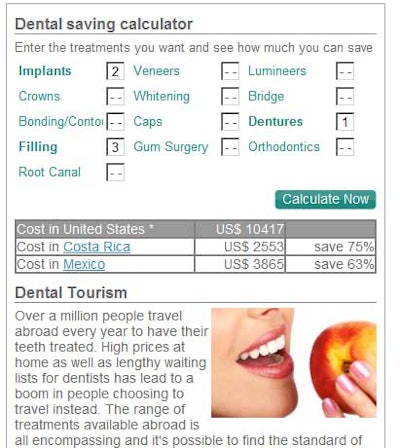 Is dental work cheaper outside the U.S.? According to Reva's calculator, you can save a bundle.
Is dental tourism taking a big chunk out of American dentists' bottom line? "There's no indication of that whatsoever," says Dr. Edmond Hewlett, Consumer Advisor for the ADA, but he admits that dental tourism is seemingly on the rise.
What about patient safety? Again, there are no hard numbers, but the British Academy of Cosmetic Dentistry expressed doubts about overseas dental care in a November 2006 press release. "Dentists ... are seeing a surge in cases of botched treatment: patients coming back to the U.K. with badly fitted crowns and mismatched veneers, and worst of all, nerves removed for no apparent reason," says the release.
Gayle Mathe, Manager of Policy Development at the California Dental Association, considers the lack of follow-up care to be a key disadvantage of dental tourism. As the ADA's Hewlett points out, dental tourists are often seeking complex work. Patients should confirm the credentials of any overseas dentist before taking the trip, and carefully evaluate the host country's safety/hygiene regulations and legal safeguards.