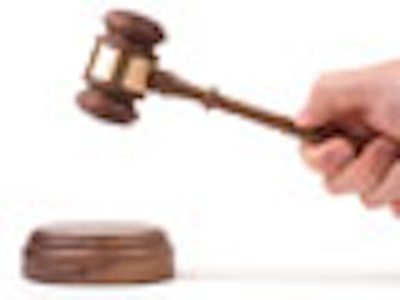 Where professors tread, lawyers are sure to follow. A new consensus statement that will be published in the November issue of the Journal of the California Dental Association looks likely to increase dentists' liability for preventing cavities.
"Consensus Statement Caries Management by Risk Assessment: Implementation Guidelines to Support Oral Health" briefly describes how dentists should assess their patients' risk of caries and work aggressively -- using counseling, antibacterials, and remineralizing agents -- to prevent the disease from damaging teeth. It includes endorsements by caries experts from most U.S. dental schools, including 18 deans.
"Once this is out there and published, it's going to become the standard of care," said co-author John Featherstone, M.Sc., Ph.D., acting dean of the University of California San Francisco School of Dentistry. The standard of care is the scale juries use to weigh a dentist's guilt or innocence in malpractice lawsuits.
Although the full legal implications of the consensus statement might take some time to work out, Dr. Featherstone argued that the principles in the statement -- known as caries management by risk assessment (CAMBRA) -- have been known for years and that dentists should already be putting them into practice.
But most aren't. "If somebody comes in with frank cavities in their teeth, we know there is bacteria in their mouth," he said. "But what does the dentist typically do? They fill the teeth and say, 'Go home.' The prevention they offer is, 'Brush your teeth and you'll be all right.' "
Attempts to change that attitude are already under way at most dental schools, according to Martin Davis, D.D.S., a professor of pediatric dentistry at Columbia University. "We have to educate the whole profession on this."
He questions whether CAMBRA (which some advocates refer to as "anticipatory guidance") has the force of law. "Nobody is going to come down on anybody yet," he said.
But somebody already has. Dental malpractice attorney Edwin J. Zinman, D.D.S., J.D., argues that most of the consensus statement's ideas are taught in dental schools and were articulated in a similar 2003 statement in the Journal of the California Dental Association and statements by the American Dental Association. "The legal ramification is that it's the standard of care," he said. "It's what all reasonable dentists should be doing."
In fact, Dr. Zinman said, he has already won cases against dentists who aren't taking aggressive enough measures to prevent decay in their patients' teeth. He cited one recent $75,000 settlement won from a dentist who replaced a patient's broken restoration without taking steps to control the patient's caries. "Dentists who are not doing this are putting their patients at medical risk and putting themselves at legal risk."
The guidelines
So what must dentists do to protect themselves and their patients? The consensus statement says they should use factors such as past history of caries to sort their patients into three categories: low, medium, high, and extreme risk.
Moderate-risk patients should get "improved remineralization therapy and reduction of other risk factors, which may include antibacterial therapy." High-risk patients should get all of the above including antibacterial therapy. Extreme risk patients should get all the same treatments as high-risk patients plus, if they have severe salivary dysfunction, "buffering agents and calcium and phosphate supplementation." (The statement gives no advice for low-risk patients.)
The document does detail some specifications of the antibacterial and remineralization products that dentists should use.
Other articles printed in the October and November issues of the Journal of the California Dental Association offer even greater detail on these products, and more specific risk assessment guidelines.
Though the consensus statement captured a wide representation of dentists, not everyone is on board. Domenick Zero, D.D.S., M.S., a caries researcher at Indiana University said he declined to sign. "The article contained endorsements of commercial products," he said. "The [authors] give them all this credence, and I don't think it's right."
For example, he objects to the document's endorsement of xylitol as an antibacterial agent and amorphous calcium phosphate for remineralization. He argues that large, randomized, placebo controlled trials are still needed to prove these agents are effective.
But he agrees with CAMBRA's underlying concept of assessing patients' risk and employing well established preventative strategies, such as fluoride varnish and dietary counseling. The bottom line, as he tells his students: "You either pay attention to me or you pay attention to lawyers."