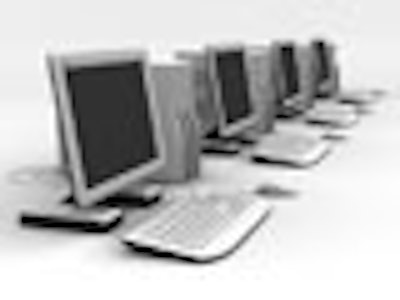 When you think about computer technology, you probably don't think about a warm, sympathetic environment that fosters close interaction between dentist and patient.
But computer technology can indeed make dentistry more patient-friendly -- if its implemented wisely. Rather than view technology as a necessary evil, dentists should view it as an agent of change that can help them better connect with their patients.
That's according to Dr. Larry Emmott, D.D.S., a self-described technology geek and principal at the Aesthetic Dental Institute in Phoenix. Dr. Emmott spoke on the transformative power of computer technology in dental practice at the recent American Dental Association annual meeting held in San Francisco.
Dental practices are adopting computer technology at an inexorable pace, Dr. Emmott said. A 1998 survey found that 18% of practices had computers in treatment rooms; by 2006, it was 62%. Nearly 90% of dental practices now have a computer somewhere in the practice, he said.
But adopting technology for technology's sake is a mistake, Dr. Emmott believes. Instead, dentists should view technology as a tool for transforming their operations. This can range from eliminating bottlenecks at the front desk to making patients feel recognized and valued when they visit the practice -- an approach that Dr. Emmott calls the "high-tech, high-touch" philosophy.
First steps
Dentists should begin their adoption of technology by visualizing what they want to accomplish, and how they want the pieces of their computer network to work together. Dr. Emmott is an advocate of the fully connected office, with networked computers available chairside and at the front desk, with connections to the Internet so that staffers can access online resources and interact with patients.
A critical component of the wired office is practice management software. Selecting the right software has become somewhat easier in recent years due to vendor consolidation. The three main players in the industry, Dr. Emmott said, are Dentrix from Dentrix Dental Systems (a subsidiary of Patterson Dental, and PracticeWorks/SoftDent from Carestream Health. Any of these three products will work well for the standard dental office, he said.
Practice management software is key in automating and digitizing functions that many practices still perform manually, from diagnosing and charting patients, to scheduling, billing, writing treatment plans, and practically every other aspect of dental operations. Dr. Emmott estimates that practice management software can save you nearly $39,000 in annual staff costs by eliminating functions that were previously done by hand. Software can also capture the estimated 3% to 4% of dental services that aren't billed due to poor communication among dental office staff.
Patient scheduling, in particular, is a major bottleneck that can be eliminated through technology. Dr. Emmott described his office in its pre-PC days, when his staff juggled five appointment books -- two for the dentists and three for the hygienists -- with staff trying to schedule appointments simultaneously.
But don't adopt technology halfway, Dr. Emmott said. He's heard of some practices that were so technophobic they used electronic scheduling side-by-side with a manual scheduling book. "There's a word for that -- stupid," he said. "Burn the book. Just go electronic."
Front desklessness
One concept that Dr. Emmott strongly believes is "front desklessness." Administrative functions previously handled by the front desk are distributed throughout the practice, making staff more efficient and patients more satisfied with their experience.
Electronic scheduling exemplifies the transformative power of front desklessness. Bottlenecks at the front desk disappear because any staffer can schedule appointments from any networked computer. The chairside dental assistant or hygienist can schedule a patient's next appointment as soon as the current cleaning is completed -- which is the exact moment the patient is most motivated to maintain good oral health, Dr. Emmott believes.
This is far more effective than the old-fashioned way, Dr. Emmott said, when six months later you send a little postcard with the happy elephant and the toothbrush. "When they get the happy elephant, you're the last thing on their list. If you schedule them today for six months from today, you're the first thing on their calendar, and everything else gets scheduled around you."
Staff can also benefit. Dr. Emmott told the story of a valued front desk administrator who had to look after her small children in the early afternoon. Rather than fire her, the practice was able to let her leave early and take calls to the practice from home by accessing the office's scheduling software remotely.
What happens to front desk staff when a practice achieves front desklessness? Their roles simply change. "Instead of being phone answerers and money collectors, they become concierges, meeting and greeting, and leading people through an elegant dental experience," Emmott said. "The technology frees you from the drudgery and allows you to spend more time on the relationship part of the job -- the distinguishing factor between average and great practices."
In part two, Dr. Emmott discusses how to get started and protecting your data.
Copyright © 2007 DrBicuspid.com