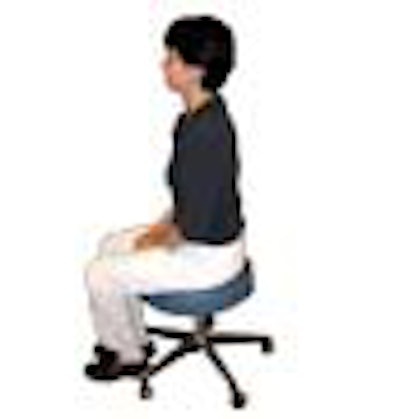 BOSTON -- You're feeling fine, just a little soreness in the lower back. Then one day after work you reach down to pick the soap off the floor of the shower and suddenly something freezes. Now you can't straighten your back. At all. Ever again.
It could be your future if you don't pay attention to your posture, Timothy J. Caruso, P.T., M.B.A., M.S., told an audience at the Yankee Dental Congress here Thursday.
Half of all dentists, a quarter of all hygienists and one in five dental assistants suffer from low back pain, according to Caruso. The problem is that they spend too much time hunched over their patients, peering downward.
Staying in that position collapses tissues and can actually change the shape of ligaments, making it difficult and painful to extend them normally. Reaching forward too much, or bending wrists at awkward angles can result in similar discomfort in wrists and arms.
And sometimes the pain from one location can be felt in another -- as in the case of sciatica, where a bulging spinal disk pushes on a nerve and causes numbness or pain in the leg.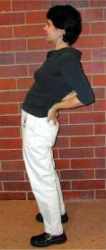 A good back stretch (Image courtesy of Timothy J. Caruso)
Most people who work in dental offices don't give their bodies the 24 hours they need to recover from these awkward positions. "You see ten patients, then you drive home and then you eat dinner, then you watch TV on the sofa and then you go to sleep with two pillows." All this time, your neck is bent. After a few years of this, "you try to sit up straight and you don't get as far as you used to," Caruso says.
Instead, Caruso advises dental workers to keep the patient's mouth as close as possible to their stomachs so that they are not leaning forward. To get a good balanced position, he recommended sitting as straight up as possible then relaxing 15 to 20 percent.
Your hips should be a little higher than your knees (in contrast to the previous recommendation that they be on the same level.) You should use the whole seat, not the front right corner.
So how can the operatory become ergonomic? Start by rearranging what you've got, says Caruso. Make sure you have everything within easy reach. Instrument trays should be low enough that you don't have to reach up into them.
Lefties may have to change the operatory set-up to the mirror image of the set-up used by right-handed people.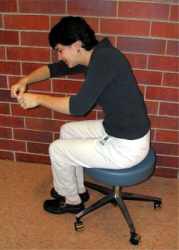 Poor dental posture. (Image courtesy of Timothy J. Caruso)
Next, make sure you have the right equipment. In many operatories, this can mean buying new furniture. It may sound expensive, but it's better than losing productivity when pain forces someone to stop working.
Chairs and stools
The dental chair should have a narrow or tapered back so you can sit close to the patient's head. It should be thin enough that you can get your legs under it.
Caruso listed several criteria for stools:
The seat pan should be rounded so it doesn't dig into back of legs, and contoured and tapered in the front to support the buttocks and thighs. Its tilt should be adjustable.
The back should provide lumbar support, and its height should be adjustable
The height of the whole stool should be adjustable
There should be five casters for stability
Armrests should support your arms in a neutral position, comfortably at your side, and allow movement in all directions. Caruso demonstrated a stool made by Brewer with armrests that swivel forward and back. And he mentioned attachable armrests by Posiflex.
Caruso doesn't like the kind with stomach bars. On the other hand, he knows dentists who like a stomach support that attaches to the chair.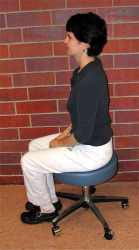 Balanced sitting posture. (Image courtesy of Timothy J. Caruso)
"Try the stool before you buy it," says Caruso. "Most companies will let you do that. There is not one that's good for everyone." Among the options are saddle stools, modeled after the seats on tractors, and "dynamic" stools that are like inflatable exercise balls on wheels.
Loupes and lighting
Loupes and lighting can help avoid slouching as well. "Sometimes loupes help, sometimes they hurt because you end up leaning forward," says Caruso.
One new innovation is Varioscopy -- adjustable focusing loupes. If you lean forward, it refocuses. "They've been using it for vascular surgery, and now they're coming to dentistry," says Caruso.
A new lighting option comes from Isolite Systems. It features suction and lighting in the same place. "The folks that use them kind of like them. If you can see better, I think that's a good thing."
Microscopes can make a difference too, by allowing the dentist to sit upright and look indirectly into the oral cavity. "I have a dear friend who uses a microscope for everything," says Caruso. "He got there because he had back pain and was going to have to stop practicing. He does all his procedures with his microscope. It saved his career."
Another alternative are video cameras that display the mouth on a screen. This allows you to sit in almost any position you want. Among the vendors are Camsight and MagnaVu. "The future of dentistry in my opinion, as far as posture, is some version of this," says Caruso. "You're using good indirect visualization so you can sit anywhere."
Instruments
The right sort of instruments can save your arms and wrists, says Caruso. Among his tips:
Get instruments that can bend so your wrists don't have to.
Larger diameter instruments are nicer to use, and so are rounded and textured ones.
Look for evenly weighted hand pieces.
Use new, sharp instruments
Your body
Even the best furniture and tools won't prevent all aches and pains. Dental workers must also listen to their bodies. Caruso advises changing positions frequently, taking short breaks, and stopping to stretch. "Instead of having a donut at your break, go for a walk in the park."
Scheduling can also help. Particularly difficult patients, such as those who say, "Oh, honey, I can't lean that far back," should be scheduled as far apart as possible and either in the morning, when you're fresh, or just before lunch, when you can take a break.
Another tip: offer to place a rolled towel under these patients' necks. Sometimes this will ease their fear of leaning too far backward.
Finally, Caruso advises dental workers to build up their core strength. "Think about working out," he says.