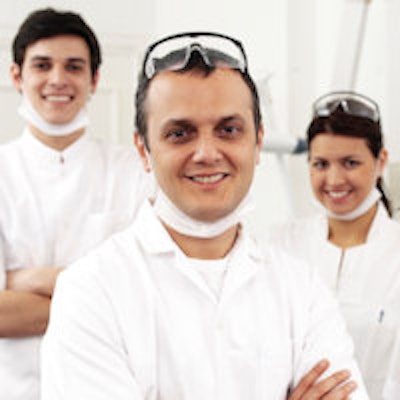 Dentists of all ages can benefit both personally and professionally by becoming actively involved in organized dentistry -- especially when they are first starting to establish a practice. Here two young dentists who are involved with organized dentistry at the local, state, and national levels talk about how advocacy has enhanced their careers and their lives.
New dentists can benefit both personally and professionally by becoming actively involved in organized dentistry, according to Christopher Salierno, DDS, the current chairman of the ADA's New Dentist Committee.
"It is a challenging time to be a new dentist and to be a dentist in general, especially for someone looking to make their way into practice ownership," said Dr. Salierno, who graduated from Stony Brook School of Dental Medicine in 2005 and opened his dental practice in Melville, NY, three and a half years ago. "But whatever challenges may be facing us now and in the future, they will be overcome by us being active and engaged and remaining organized."
He has been involved in dental advocacy at the national level since dental school through his affiliation with the American Student Dental Association (ASDA), even serving as the national president when he was a fourth-year student. After graduation, Dr. Salierno became chair of the local new dentist committee in Suffolk County and is now president-elect of the Suffolk County Dental Society. He is also involved at the state level and serves as an alternate delegate to the ADA House of Delegates.
"When you get really involved in the issues facing your profession, when you graduate you look for 'what else is there to be done,' " he said.
"It is a challenging time to be a new dentist and to be a dentist in general."
— Christopher Salierno, DDS, chairman,
ADA New Dentist Committee
The ADA New Dentist Committee offers a number of opportunities to get involved in organized dentistry and help support the profession, Dr. Salierno noted. But the committee is also there to serve as a support system for new dentists (defined as less than 10 years since graduation), he emphasized.
"In the late 1980s, the ADA recognized the need for there to be a separate body that was monitoring new dentist issues," he said. "There are unique challenges for recent graduates and new dentists, and this committee is there to monitor these issues and train future leaders. We also train them to take over practices and become new owners. We try to anticipate the needs of new dentists -- to read the tea leaves, so to speak."
For ADA consumer advisor spokesperson Ruchi Sahota, DDS -- former chair of the New Dentist Committee for the ADA and the California Dental Association (CDA) and currently an associate editor for the CDA Journal -- advocacy is a way to give back to the profession and interact with her colleagues in a supportive atmosphere.
"Being involved with the committee, you are sitting at a table with people who are experiencing the same challenges -- sometimes even at a personal level -- that you are experiencing," said Dr. Sahota, who is in private practice in Fremont, CA, and also is a clinical instructor for restorative dentistry at the Arthur A. Dugoni University of Pacific School of Dentistry, from which she graduated in 2004. "So it is a great opportunity for personal networking and growing together."
Her involvement with organized dentistry goes back to her days in dental school, both as an active member of the ASDA and editor in chief of the ASDA journal Mouth. And after she finished her residency, she continued to work at the local, state, and national levels to support the dental community.
"Every time I come home from a committee meeting or conference, I feel so much more energized," Dr. Sahota said. "Clinically, of course, because of the excellent continuing education, but practice management-wise also. When you talk to someone and realize they are going through the same challenges you are and they give you some tips, it makes you feel more powerful, more energized."
Both Dr. Salierno and Dr. Sahota point to the annual New Dentist Conference as one of the New Dentist Committee's most popular and beneficial activities.
"It is a wonderful opportunity for new dentists to come together and learn about the issues facing the industry and the ADA," Dr. Salierno said. "They get training on how to become more active and engaged leaders as well as great clinical training from some of the biggest names in dentistry."
Visit the ADA website for more information about the ADA New Dentist Committee and conference.