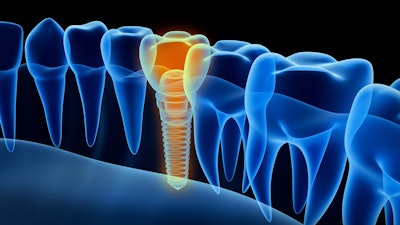 The first U.S. dental implant registry is located at the National Dental Practice-Based Research Network with the University of Alabama at Birmingham (UAB) School of Dentistry.
Funded by the U.S. National Institute of Dental and Craniofacial Research, the registry will drive a three-year $2.3 million study of dental implant outcomes.
The study will explore factors associated with the success of implant therapy and the rate of complications with prosthetic and biologic implants. The results will also be used to improve the success rate of dental implants, crowns, and dentures while restoring dental function and aesthetics.
In July, researchers began recruiting patients throughout the U.S., with the goal of enrolling 2,000 individuals. Individuals who are interested in enrolling in the study should contact their oral healthcare providers, UAB said.