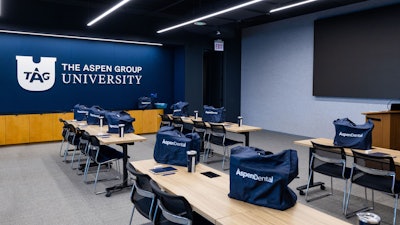 TAG - The Aspen Group has launched TAG University, which offers continuing education (CE) and professional development courses to its members, including those affiliated with dental service organization Aspen Dental.
The university will offer education and insight into topics such as implant dentistry, conflict resolution, and lab management. The courses will be on demand and in person at select locations, including TAG's headquarters in Chicago, according to the DSO.
In 2022, TAG said it issued more than 50,000 CE credits; committed $6 million to clinical, operational, professional and leadership development; trained more than 6,500 people; hosted 155 classes across 20 programs; and completed more than 170,000 hours of learning across the organization.