Bill Choby is a busy man wearing many hats, including a tricorn. Choby is a dentist, entrepreneur, author, former Congressional candidate and historical reenactor, portraying George Washington.
Coby is the owner of the Center for Dental Implants in Greensburg, PA, but he has long been an avid historian. His decision to reenact statesman and founding father Washington was sparked during a business trip to Philadelphia, where he met a Benjamin Franklin reenactor.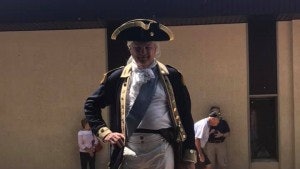 "I spoke with him for about a half an hour and he stayed totally in character throughout I thought to myself 'That's pretty cool. Someday, I'd like to do something like that,'" Coby said in an article in TribLive.
Choby has impersonated Washington for 20 years, including donning Washington attire to participate in the annual Memorial Day parade in Etna, PA. In addition to running his dental implant practice and portraying Washington, Choby is the author of "Liberty in America Past, Present and Future," and he records a podcast.