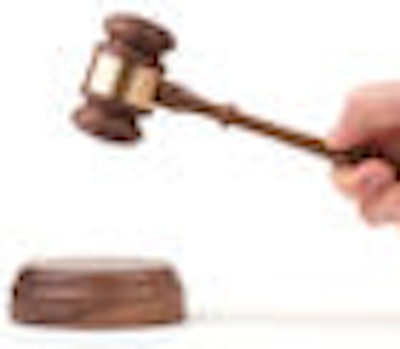 Two Chicago dentists who had their licenses suspended July 31 because a patient died while under sedation in their office must now pay the patient's family $3.9 million.
On August 13, a Cook County Circuit Court judge approved a settlement agreement between the family of Georgette Watson, who died in December during a root canal procedure, and brothers Joseph Feldman, D.D.S., and Laurence Feldman, D.D.S., the dentists performing that procedure.
The Illinois Department of Financial and Professional Regulation (IDFPR) charged the brothers with failing to take a proper medical history of the patient, administering excessive doses of mepivacaine (Carbocaine) and meperidine (Demerol), failing to properly monitor the patient's vital signs during the procedure, and failing to ensure adequate training for their staff.
As part of the settlement with the Watson family, the Feldmans are not admitting liability, according to Larry R. Rogers Sr., attorney for the Watson family.
"They did not admit liability, but they were in agreement that they should settle the case," Rogers told DrBicuspid.com. "We initially filed a petition for discovery in late December/early January, and when we demanded paperwork regarding their insurance policy coverage [as part of the discovery], they agreed to participate in a settlement discussion to put this matter behind them as quickly as possible."
The brothers had $4 million in malpractice insurance, according to Rogers.
Following the court's decision, the Feldmans issued this statement:
"Words alone cannot measure the grief and sadness we feel on the sudden loss of Georgette Watson. We, too, are overcome with emotion recalling past visits where we experienced her wonderful ways and charm."
The brothers still must undergo another hearing, before an administrative law judge and the IDFPR, to determine whether the state will restore their licenses. That hearing was supposed to take place on August 13; however, the Feldmans were granted a postponement to August 21, according to IDFPR spokesperson Susan Hofer.
"The law requires the department to be ready to present evidence of why we felt there was a need for an emergency suspension based on our concern for the health and safety of the general public," Hofer told DrBicuspid.com. "The dentists now have the opportunity to say before an administrative law judge why we shouldn't have suspended their license. The judge will review the file and transcripts and issue a recommendation based on the facts and the law. This recommendation will then go to the board for review, and they will make a recommendation to the director of the division. Until the director signs the final order, the temporary suspension remains in effect."
As with any court proceeding, Hofer noted, the Feldmans could opt to reach a settlement with the IDFPR.
"At this point, neither dentist is practicing, and the state accommodates the licensee if they request an extension," she said. "But we are ready to present our case."
The Feldmans' attorneys did not respond to requests for comment.