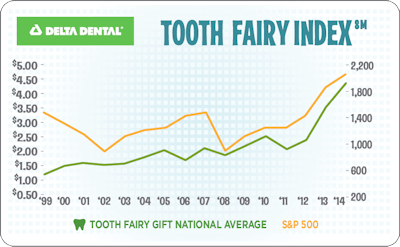 The tooth fairy was feeling more generous than ever in 2014 by leaving an estimated $255 million for lost teeth. The average gift for a tooth hit a record high of $4.36 last year, which is up from $3.50 in 2013, according to Delta Dental's annual Original Tooth Fairy Poll.
Kids in the South received the highest average amount of cash with $5.16 given per tooth, while children in the Midwest only received $2.83 on average. The tooth fairy was more generous to first-time tooth losers, although the child's age and amount of spare cash on hand also played a role in how much was left by the tooth fairy.
In some cases, the tooth fairy left gifts such as toys, toothbrushes, or dental floss with or instead of cash.
"We're happy that, in addition to money, the tooth fairy is leaving gifts that help get kids excited to brush and floss their teeth," stated Jennifer Elliott, vice president of marketing at Delta Dental Plans Association, in a press release.
The Original Tooth Fairy Poll has typically been a good indicator of the economy's overall direction. When tracked against stock market performance, the tooth fairy's giving has been consistent with the Standard & Poor's 500 index (S&P 500) movement in 11 of the past 12 years.
In 2014, both the average tooth fairy gift and the S&P 500 posted double-digit gains for the third year in a row. For more information, visit www.originaltoothfairypoll.com.