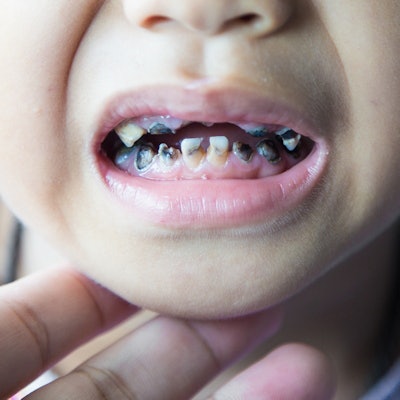 The University of Rochester Eastman Institute for Oral Health (EIOH) has received a $6 million federal grant to study a topical antimicrobial agent that may prevent new cavities in young children with severe tooth decay.
EIOH pediatric dentists treat more than 1,000 young children with severe tooth decay in the operating room each year. Researchers will launch a single-center, randomized, double-blind, placebo-controlled trial to assess the efficacy of povidone iodine to prevent new cavities from developing after treatment, according to the University of Rochester Medical Center.
Children enrolled in the study will be randomly assigned to have povidone iodine and fluoride varnish applied to their teeth or a placebo and fluoride varnish. The agents will be reapplied every three months for up to 24 months.
Previous work has shown that povidone iodine suppresses the growth of the bacteria most commonly associated with tooth decay and that the agent may be able to prevent recurrent cavities following treatment and oral rehabilitation.
The grant was awarded by the U.S. National Institutes of Health's National Institute of Dental and Craniofacial Research.