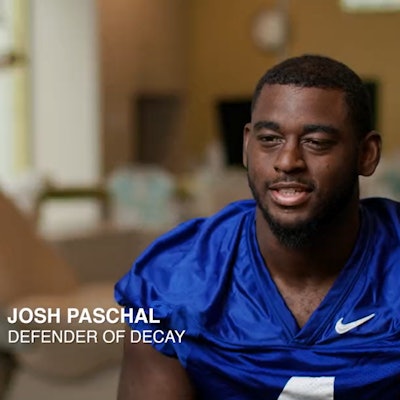 College football standout Josh Paschal, a defensive end for the Kentucky Wildcats, has been dubbed a "game wrecker" for blowing out opposing teams' plays before they barely begin. Now, he's using those skills to defend children against tooth decay.
In the opening of the hilarious commercial for Steckler Pediatric Dentistry in Lexington, KY, Paschal is the "Defender of Decay." As part of his role, Paschal smacks sugary drinks out of kids' hands while warning, "Don't be bringing these sugar-coated lies into my house."
That's not all he does in the name of promoting good oral hygiene. Paschal also grabs bags of sweets from cars and gives parents a pep talk about laying off social media at bedtime and, instead, focusing on toothbrushing. Paschal even subs in for a dental hygienist who cramps up and gets ushered away from a patient.
It's been great working with Steckler Pediatric Dentistry (@kykidsdentist) and the kids in the community with their oral health! I am the #DefenderOfDecay! @creativecaddie #ad pic.twitter.com/HT8OGg2Bx2

— Joshua Paschal (@JPaschalx) November 23, 2021
Since July 2021, college athletes have been permitted to make money off their name, image, and likeness (NIL). Ever since, they have found creative ways to profit from endorsements, signing events, and apparel deals.
Though the oral hygiene advertisement may be the first time Paschal gets to cut his acting teeth, it isn't his first NIL deal. He and his teammates are featured on a billboard promoting a large Kentucky law firm, driving the message that "size matters" when it comes to legal representation.