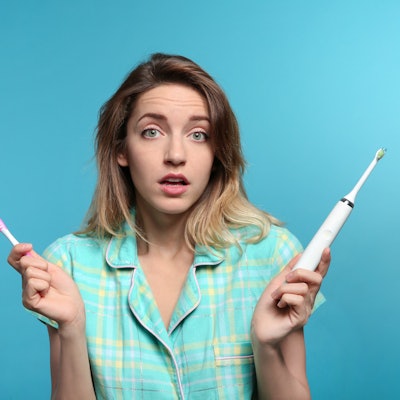 Do you want patients to clean their teeth better? Then it may be time to recommend switching from a manual toothbrush to a powered toothbrush, according to a review article published on December 7 in the International Journal of Dental Hygiene.
Powered toothbrushes remove more dental plaque than manual toothbrushes. Furthermore, an oscillating-rotating powered toothbrush (PTB) appears to be more effective than a high-frequency sonic-powered brush, the authors wrote.
"When recommending a toothbrush to a patient, a PTB is more effective than a manual toothbrush and should be considered the first choice," wrote the group, led by Dr. Dagmar Else Slot from the Academic Centre for Dentistry in Amsterdam (ACTA).
It is critical that patients reduce the amount of gingivitis-causing plaque in their mouths. Toothbrushing is the proven strategy for preventing gingivitis and other dental diseases. However, which type of brush does the job best has been debated. This is especially true as new technology brings new types of brushes to the market.
To compare the effectiveness of powered versus manual toothbrushes, Slot and colleagues reviewed the data from 28 studies.
The group found a statistically significant difference in mean postbrushing score when comparing oscillating-rotating powered toothbrushes and manual toothbrushes (standard mean deviation, -0.43; 95% confidence interval, -0.696 to -0.171).
Also, the change in plaque score showed a significant effect from using an oscillating-rotating electric brush, which rotates rapidly back and forth to loosen plaque from teeth, and a high-frequency sonic version, which uses vibration technology to help release plaque.
Though powered toothbrushes can remove plaque better, they may not be the best options for all patients, the authors noted. Recommendations should not be based solely on plaque removal efficacy. Other factors, such as cost, should be considered, they cautioned.
Limitations of the research included restricting publications to those written in English. This prerequisite may have introduced a language bias, the authors wrote.
Nonetheless, the review "supports the recommendation to use a powered toothbrush for daily plaque removal," Slot and colleagues wrote.