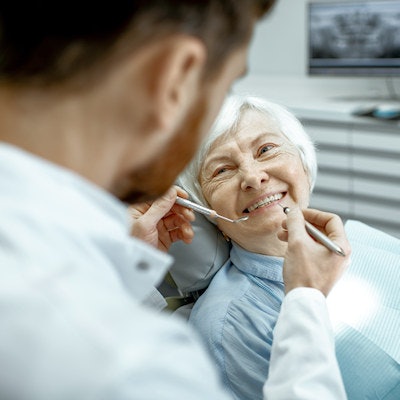 A 2022 landmark report on end-of-life issues is drawing criticism for not including oral healthcare. Dental professionals published their thoughts on the contribution of palliative oral healthcare in a commentary published in the Journal of the American Dental Association.
In early 2022, the Lancet Commission on the Value of Death published its report, "Bringing Death Back Into Life." Underlying the report is the observation of the end-of-life spectrum. According to the commission, there should be a rebalancing of death and dying as normal and meaningful, and the commission presented several potential scenarios for dying and death.
However, one area not covered by the commission was oral healthcare. Given the commission's suggestion that all medical professionals should have general competencies in palliative care and that there should be increased support for collaboration between general healthcare and oral healthcare providers, the commentary's authors expressed their surprise that oral healthcare was not mentioned in the commission's report.
"On the basis of the above, we take the stand that oral health care should be part of palliative care worldwide," wrote the authors, led by Dr. Frank Lobbezoo, PhD, of the Academic Centre for Dentistry Amsterdam (JADA, October 14, 2022).
One scenario outlined in the Lancet report, "rebalancing," focuses on healthcare system reform. Underscoring this particular scenario is the sentiment that psychological, social, and spiritual health are equally as important as physical health.
"This shifts the healthcare focus from disease to person, from longevity to well-being, and from institutions to communities," Lobbezoo and the JADA authors wrote.
When people reach the end of their lives, they can experience numerous potentially debilitating oral health conditions, including ulcers, mucositis, dry mouth, orofacial pain, pulpitis, and abscesses. The side effects of these conditions include difficulty eating, failing oral aesthetics, and halitosis.
The commentary's authors stated they conducted an online literature search focused on palliative and dental care. The search yielded 19 articles of which nearly 90% were published in dental journals. Only two articles appeared in medical journals.
The authors recommend that interdisciplinary research projects be conducted to further healthcare providers' understanding of dying patients' oral healthcare needs. As such, palliative oral healthcare should contribute to dying with dignity.
"Clearly, the dissemination of the notion that oral health care should be part of palliative care is circumscribed mainly to the dental discipline, whereas reaching out to the medical community is crucial to actually implementing this notion," the commentary's authors wrote.