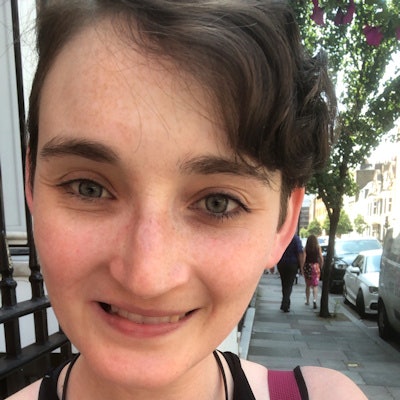 Like many 30-something-year-old women, Jen Taylor chronicles her life on the social media platform Instagram. In Taylor's case, her profile also serves as an outlet for documenting her life after she was diagnosed with cancer in her maxilla in her late 20s.
"Today I became a statistic," Taylor wrote on August 7 of this year as she recounted the day that changed everything. "A pretty important one. It's been exactly five years since I followed the dental nurse to a room high above London at Guy's and St. Thomas' hospital, and waited for the dental specialist to tell me the words I wasn't expecting to hear: 'You have cancer.'"
On that day, Taylor's oncologist called her stoic. But Taylor had a lot to say and decided to publicize her life through Instagram, Facebook, and a blog called the Cancer Chronicles.
Taylor's first cancer diagnosis
Initially, Taylor was diagnosed with an abscess from a suspected nonvital tooth.
"The first thing [the dentist] did was to tell me it was an abscess and ask me when I last had a root canal in that tooth," Taylor wrote in October 2017. "I looked at him puzzled and told him I have never had a root canal. He didn't believe me and ordered an x-ray to prove to me that I was wrong ... Sure enough, the x-ray came back and showed that the tooth had never had a root canal."
Still, endodontic therapy was performed and antibiotics were prescribed. But Taylor's swelling didn't resolve. Almost two months later, an incisional biopsy revealed high-grade chondroblastic osteosarcoma. Taylor is nothing if not sanguine.
"I suppose you can't expect an everyday dentist to know how to spot a very rare cancer in a very rare location," Taylor said. "I suppose he did everything he could, everything within his realm of expertise."
Initial treatment and surgery
The first step of her cancer treatment was a grueling six-cycle, seven-month chemotherapy regimen. This reduces the chances of metastasis and controls the local cancer growth, although, ironically, it does nothing to shrink the tumor due to its location in the bone rather than the soft tissue.
One month after chemotherapy, Taylor underwent a partial resection of her maxilla. Performed intraorally, via the nostrils, and in areas hidden by natural facial folds, the resection extended from the right pterygoid plates and zygomatic buttress to the contralateral canine and part of the nasal bone. The simultaneous reconstruction involved a latissimus dorsi free flap and the tip of Taylor's scapula. This was followed by a healing period of several months, during which Taylor's diet consisted primarily of liquid and pureed foods and the use of a pediatric toothbrush.
"But I could at least drink beer, thank goodness!" Taylor quipped in April 2018.
Seven weeks postoperative, Taylor documented the toll of the surgery on her quality of life.
"Not being able to breathe through your nose is really not nice even for one day, let alone a year," she wrote in May 2018. "My mouth and throat are constantly dry and burning. Also my cheek is attached to the flap ... I keep biting the right hand side of my cheek every time I try to bite anything ... Added with not being able to open my mouth very wide. Eating is hard work."
"But I'm alive."
Implant placement
Three months later, magnetic resonance imaging and positron emission tomography imaging confirmed no tumor recurrence. Using implant planning software and a combination of virtual modeling and a 3D-printed replica of the maxilla, three zygomatic implants and two regular implants were proposed. Even with jaw stretching exercises, surgical access for implant placement was difficult, particularly with the limited bone on the right side.
Thirteen months after the initial surgery, implants were placed into the right infraorbital rim, the right zygoma, and the left zygoma. Impressions were taken two days later, and Taylor was fitted with a screw-retained resin provisional bridge.
"People's reaction to me wanting teeth is interesting," Taylor shared in July 2018. "Most people are in the camp of 'of course, it must be SO difficult without teeth' but occasionally voicing my desperate wish for teeth gets brushed off with an 'oh, that's not an issue, teeth don't really matter, you'll get them when you get them'. Would they think being without teeth is inconsequential if it were them?"
During the implant integration phase, Taylor was fitted with some trial teeth. Disappointed by their large size, she wrote about it on the blog.
"You pin all your hopes and dreams on looking a bit more normal with teeth and you see them and all you can think is 'they're not my teeth ... Who's teeth are they?'" Taylor wrote in December 2018.
At the risk of being overly demanding, Taylor asked for a revision. When she put in the new teeth, she smiled.
"Not just moved my lips back to reveal my teeth, I really smiled," she wrote. "I felt relief wash over me. The dentist and assistant agreed. In fact the dentist said she was glad that we went for smaller teeth and that she has to remember that they're my teeth. Maybe the big teeth do look better on paper but it's important for them to look good on me."
Final impressions on her implant-retained restorations
Finally, impressions and registrations were taken for the final restoration. Here there were also challenges, as the flap surgery shortened Taylor's lip and reduced the necessary restorative space. A screw-retained porcelain bonded to a milled chrome cobalt bridge was fabricated. As a bonus, her "implant heroes," Drs. Andrew Dawood and Hannah Fullerton, made her a more aesthetic provisional.
Taylor's reaction to her final teeth was mixed and complicated.
"I used to love my dainty little teeth, my teeth were probably my favourite thing about me, my favourite physical characteristic," Taylor wrote in October 2019.
She praised her entire dental team for their efforts and the fantastic job. She understood that hers was a difficult case.
"And now I have the kind of teeth I was always glad I didn't have," Taylor wrote. "There were hugs and photos, they were happy, but no one asked if I was happy ... They keep saying I'll just get used to whatever they give me so I guess that's the end of it." Taylor was struggling a bit, trying to come to terms with everything that had happened.
Perhaps she put it best: "It's natural to grieve the person you've now permanently lost."
Taylor's subsequent cancer diagnoses
In November 2020, Taylor learned that her cancer had returned -- and it was aggressive. She would lose her right eye the following Monday.
The cancer progressed opportunistically near her sinuses and northward toward her brain. Technically Taylor was a five-year "survivor," but she acknowledged, "The truth is that I am on my third diagnosis, my cancer incurable, my last grasps of treatment palliative, in the worst pain I've ever been in, and my tumour toeing the line of briefly being stable (maybe) ..."
Taylor is facing the news the way she has for the past six years, by posting on social media. Just this week, she shared her latest update on Instagram: She has completed the last session of 30 scheduled radiotherapy rounds.
Analyzing Taylor's story as a dentist
As dental professionals, it's incumbent to realize that there is a person behind that set of teeth you're restoring, someone who may have opinions but may be too intimidated to articulate them. Someone who's really "stoic" and who may be putting on a brave face. Someone who knows that when you lecture about mouth sores, you may never have experienced one yourself or the symptoms of procedures you perform daily.
In this age of social media, it's critical to consider all aspects of treatment. Patients share positive -- and negative -- impressions. Failing to take this into account exposes you to unfavorable comments. Even more significant is failing to treat your patient as a total person.
Author's note: All photos courtesy of Jen Taylor. Go to Cancer Chronicles to find out more about Taylor. She's also on Facebook and Instagram @jen_eve. I first learned about Taylor in a British Dental Journal article.
Dr. Teresa Yang is the author of the upcoming 2023 book, Nothing but the Tooth: An Insider's Guide to Dental Health. She practiced dentistry for over 30 years, starting two successful practices from scratch. Dr. Yang is also the editor of WestViews, a publication of the Western Los Angeles Dental Society. She can be reached at yangter@gmail.com.
The comments and observations expressed herein do not necessarily reflect the opinions of DrBicuspid.com, nor should they be construed as an endorsement or admonishment of any particular idea, vendor, or organization.