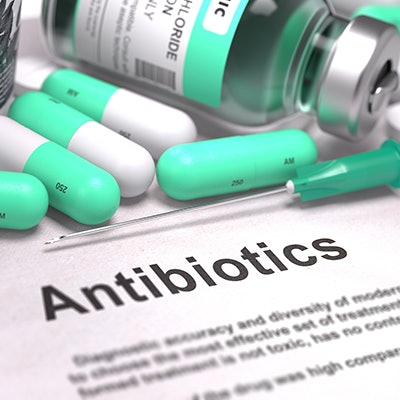 There is no one-size-fits-all solution for tackling antibiotic resistance, according to a commentary published on February 10 in the International Dental Journal. Instead, a variety of approaches are needed to craft tailor-made solutions for factors that drive the unnecessary use of dental antibiotics.
Factors influencing resistance differ among locations and over time, wrote the authors, led by Wendy Thompson of the division of dentistry at the University of Manchester in the U.K. These include interpreting the evidence underpinning guidelines for prophylactic indications, periodontal disease, and delayed prescribing for acute conditions.
"Furthermore, considerations important for treatment planning decisions in some low-middle-income countries, such as the widespread availability of substandard antibiotics for people to purchase in local shops, may not be relevant in some high-income countries," the authors wrote.
Dentist responsibility
Dentists are responsible for writing approximately 10% of human antibiotic prescriptions worldwide. Despite efforts to reduce dental antibiotic use, too many antibiotics are still being prescribed by dentists, Thompson and colleagues noted.
This is compounded by a growing problem of care provided in nondental settings, such as hospital emergency departments, which contributes to the overuse of antibiotics because the treatment provided there is not always definitive, they wrote.
Early diagnosis and treatment of dental disease are important ways that dentists can contribute to preventing infections and reducing the need for antibiotics. Dentists should advocate for reduced sugar consumption and fluoridation in the fight against antibiotic resistance, the authors noted. Dentists also should offer dietary advice and reward excellence in oral hygiene to prevent tooth decay and periodontal disease, which in turn reduce the risk of dental infections.
Moreover, dentists hold a high degree of respect within local communities and have a responsibility to use this privileged position to raise awareness about antibiotic resistance among the general population and patients, the authors wrote. By preventing dental infections, raising awareness about antibiotic resistance, and optimizing the use of antibiotics through stewardship, the dental profession can protect patients.
Different contexts, different challenges
Local solutions are also required to address the global problem of antibiotic resistance, Thompson and colleagues stated. Research shows that decisions to prescribe dental antibiotics are multifaceted and sensitive to context, and it is key to first understand factors important in the local setting.
General dental practices may need different solutions than hospital-based or domiciliary care teams. In addition, those working in secure settings, such as prisons or detention centers, have different needs than those working with people who are homeless, refugees, or asylum seekers.
Different contexts present different challenges, the authors indicated. Considerations that are important for treatment planning decisions in some low- and middle-income countries may not be relevant in some high-income countries. For example, substandard and counterfeit drugs may be prevalent in many low- and middle-income countries.
Local guidelines needed
Scientists advocate for multisectoral national action plans (NAPs) to provide the basis for assessing national and regional priorities. It is important that dentistry be included specifically in NAPs, the authors wrote, given the different factors influencing dental prescribers.
The FDI World Dental Federation supports the development of NAPs to tackle antibiotic resistance by dental professionals. In some cases, significant investment and resources may be required to develop and implement a local NAP instead of basing the plan on research and data from other countries.
The development of guidelines that are based on this national context, including antibiotic-resistance patterns, is essential and should be done in multidisciplinary collaboration with pharmacists and microbiology and infectious disease specialists, the group concluded.