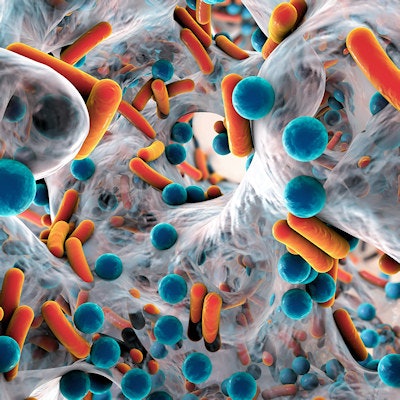 Static computer-aided implant surgery (S-CAIS) offers benefits compared to conventional procedures, including that it may help combat antibiotic resistance, according to a letter published on January 24 in the International Dental Journal.
New technologies allow for complete virtual planning and computer-aided clinical execution of dental implants. In addition, they have the potential to make the process quicker, more accurate, as well as less invasive and expensive, the authors of the letter wrote.
"Digital planning and S-CAIS seem to contribute to performing less invasive interventions, helping clinicians to modify the usage of PAT (preventive antibiotic therapy) and therefore favor the prevention of increasing AMR (antimicrobial resistance)," wrote the authors, led by Dr. Juan-Francisco Peña-Cardelles of the Harvard School of Dental Medicine in Boston.
Due to the presence of approximately 500 to 700 species of bacteria in the mouth, prophylactic antibiotics have been part of dental implant procedures from the beginning. However, the use of these medications continue to be questioned due to their potential side effects and complications and a lack of agreement on whether preventive antibiotics cause more harm than good in dental implant procedures. These concerns, coupled with the continued global threat of bacterial antimicrobial resistance, which is linked to longer hospital stays, higher treatment costs, and patient mortality, means it is critical that clinicians review antibiotic prescription protocols, they wrote.
Currently, recommendations call for patients to receive 2 g to 3 g of amoxicillin one hour before ordinary dental implant procedures, which includes cases with anatomic constraints and in-guided bone regeneration with the placement of dental implants in one or two stages.
In other procedures, including immediate dental implants and multiple implant placements, prophylactic antibiotics are recommended during the presurgical phase, and antibiotics are typically given during the postsurgical phase. Since these procedures are related to larger mucoperiosteal flaps, they are commonly linked to longer surgical times and major surgical trauma that raise the risk of infection, they wrote.
This is why S-CAIS dental implant surgery, which offers the possibility of inserting multiple implants in an optimal tridimensional position in a smaller surgical window, may be a tool in the fight against antimicrobial resistance, the authors wrote.
When a case is appropriate for computer-assisted implant surgery to be performed using a flapless approach, both the rate of postsurgical infection and the patient's inflammatory response drop. Furthermore, the computer-aided procedure allows clinicians to place implants in restricted anatomic areas, in many cases avoiding ridge augmentation procedures, they wrote.
"Nevertheless, it is necessary to perform studies to analyse the prevalence of secondary infections in digitally assisted fully guided implant placement vs. conventional implant placement regarding the PAT protocol used," Peña-Cardelles and colleagues concluded.