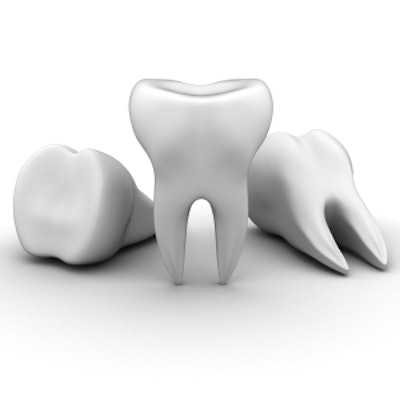 Researchers in Korea have developed a new coating for dental implants that could significantly facilitate bone regeneration, according to a recent study.
A group led by Hyung Joon Cha, PhD, of Pohang University of Science and Technology, developed an osteogenic barrier coating for dental implants that prevents the invasion of soft-tissue cells; attracts osteoprogenitor cells, including bone stem cells; and sustainably releases the loaded bone morphogenetic protein-2 (BMP-2) (Bioeng Transl Med, January 18, 2023).
The coating may improve the success rate of alveolar bone grafting, according to the researchers. The study "revealed the possibility of improving the success rate of implant treatment regardless of the bone condition," the group said in a news release from the university.
One of the key factors of a successful dental implant is the condition of the periodontium around the implant. A higher long-term success rate of dental implants requires sufficient and healthy alveolar bone. In cases where lack of alveolar bone renders the setting of an implant difficult, the bone should be regenerated sufficiently to receive the implant, whether before or during the implant surgery, the reseachers explained.
In the study, the researchers first loaded BMP-2 on top of the bioengineered material, where arginine-glycine-aspartate peptide, which is capable of attracting cells, was fused with mussel adhesive protein (MAP), which maintains strong adhesiveness in a wet environment. The team then coated the titanium mesh membrane with the material.
According to the findings, the coated barrier membrane exhibited cell occlusivity in which fibroblasts could not permeate the membrane. The team also found that it induced a high level of bone differentiation in a short period of time inside the membrane using increased growth of mesenchymal stem cells and the release of BMP-2.
In addition, the researchers reported that application of the MAP-based barrier coating roughly doubled the speed of bone tissue regeneration. The research findings could also be applied to regenerate a variety of hard tissues, according to the group.