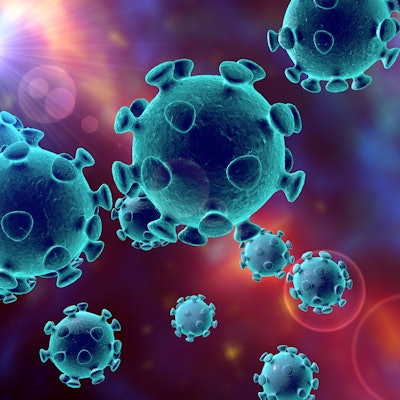 Painful ulcers in the oral cavity may be linked to SARS-CoV-2 infection, which causes COVID-19, according to an article published on May 5 in Oral Diseases. This is thought to be the first reported case of oral lesions being a possible symptom of COVID-19, the authors noted.
A connection is possible considering lesions inside the mouth are often misdiagnosed due to the lack of an intraoral exam, as well as the severity of other pathological processes that might occur with SARS-CoV-2 infection, they wrote.
"It makes good sense that this virus provokes exanthematic lesions that may resemble other viral processes we are used to diagnosing in the dental clinic," wrote the group, led by Carmen Martín Carreras-Presas from the adult dentistry department, oral medicine, at the European University of Madrid.
Still learning
At press time, approximately 5.4 million confirmed cases of COVID-19, including about 343,00 deaths, have been reported globally to the World Health Organization. More than 1.6 million COVID-19 cases and nearly 100,000 deaths have occurred in the U.S.
As the novel coronavirus continues to spread, scientists and healthcare workers are also learning new details about the infection. Initially, the most common signs and symptoms of a SARS-CoV-2 infection were fever, sore throat, and headache. Over time, symptoms of diarrhea, loss of taste and smell, and skin conditions, including vasculitis and chicken pox-like lesions, were added. Therefore, it is plausible to think that lesions found in the oral cavity of one COVID-19-positive patient and two suspected positive patients are connected, the authors wrote.
All three patients developed the oral lesions during an isolation period between the last week of March and the first week of April. Due to the shutdown, the clinicians saw the patients via video consultations.
A 56-year-old healthy man
A man who had a fever and enlarged lymph nodes in his neck, felt weak, and lost some of his ability to smell and taste was suspected of being infected by SARS-CoV-2 and told to self-isolate. The man was asked to send photos of his mouth after he began experiencing pain in his palate and a sore throat. The lesions looked like herpetic recurrent stomatitis; however, it was the first time he had them. The lesions healed after the patient took the prescribed valaciclovir 500 mg every eight hours for 10 days and used topical antiseptics with chlorhexidine and hyaluronic acid. At the time of this writing, the man was waiting for serological testing to confirm whether he had COVID-19.
A 58-year-old man with underlying conditions
A man with diabetes and hypertension reported pain on his palate. He assumed it was a bacterial infection of a tooth. His wife had been diagnosed with COVID-19, and they were both isolated in their home. The doctors had him send a photo of his mouth, which showed multiple small ulcers on his palate with unilateral affection. He had no previous history of herpetic infection. The lesions healed within one week after using a topical antiseptic mouthwash.
A 65-year-old woman infected with SARS-CoV-2
A woman reported having a high fever, diarrhea, and pain on her tongue on March 12. She was obese and had hypertension, which were controlled with diuretics and an angiotensin-converting enzyme (ACE) inhibitor. A week later, she fainted at home and was taken to the hospital, where she was diagnosed with bilateral pneumonia due to SARS-CoV-2 infection. She was given antibiotics, corticosteroids, and the antiviral drugs lopinavir, ritonavir, and hydroxychloroquine. She was discharged from the hospital on March 30. On April 4, she developed a rash on various parts of her body. Though she experienced tongue pain from the beginning, she said she never had an intraoral examination.
She returned to the hospital and a dermatologist performed a biopsy and prescribed antifungal medications. A week later, she developed blisters in her internal lip mucosa and desquamative gingivitis. She was prescribed hyaluronic acid and chlorhexidine mouthwash. Her general practitioner prescribed prednisolone, 30 mg per day. Her lesions improved within three days, and she continued recovering in isolation at home. The biopsy revealed nonspecific morphological findings with some criteria suggestive of a nonspecific viral rash or eczema-like lesions with discrete blood extravasation.
More to know
Biopsies could not be performed on all of the patients, and further studies are needed to determine whether ulcers in the oral cavity are common in patients affected by SARS-CoV-2 infection or if the emotional distress of the situation triggers the lesions, the authors wrote.
These cases also shine a light on the importance of conducting intraoral exams.
"We encourage all medical doctors, dentists and dermatologists to perform intraoral examinations in patients suspected or affected by SARS-CoV-2, always when having the recommended protection measures available," they wrote.