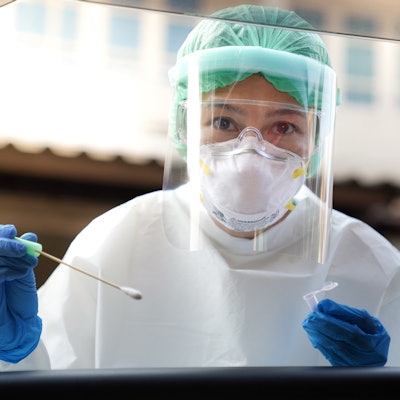 Nasopharyngeal swabs produced by 3D printing can provide comparable results to traditional swabs for SARS-CoV-2 reverse transcription polymerase chain reaction (RT-PCR) testing, according to research from Beth Israel Deaconess Medical Center (BIDMC) recently published online in the Journal of Clinical Microbiology.
A multidisciplinary research team led by first author Cody Callahan of BIDMC's department of radiology and senior author Ramy Arnaout, MD, PhD, of the institution's Clinical Microbiology Laboratories investigated over 150 swab designs and nearly 50 materials in a multiphase analysis that included preclinical evaluation, assessment of production considerations, and field testing in a clinical trial.
The group found that four 3D-printed swab prototypes delivered excellent concordance to a traditional reference swab.
"Our experience holds lessons for the rapid development, validation, and deployment of new technology for this pandemic and beyond," the authors wrote.
Severe shortage
A severe international shortage of nasopharyngeal swabs occurred when the COVID-19 pandemic hit, resulting in a bottleneck that affected the ability of clinical laboratories to perform virological testing for SARS-CoV-2. To help, the BIDMC researchers developed a translational research program to quickly develop and clinically validate swabs that could be mass-produced on 3D printers. The consortium included a number of medical centers, healthcare workers, manufacturers, and scientists (J Clin Microbiol, May 11, 2020).
After the preclinical validation and assessment of production considerations winnowed the 160 swab designs and 48 materials down to four prototypes, the researchers validated the four candidates in a clinical trial that included 276 outpatient volunteers who had come to the hospital's drive-through testing center with symptoms suspicious for COVID-19. Each of the participants was swabbed with both a traditional swab and a prototype 3D-printed swab for RT-PCR testing.
All four prototypes achieved high concordance with the reference swab for the RT-PCR test results.
Concordance of prototype 3D-printed swabs with reference swab
Prototype manufacturer
Resolution Medical (with technology from Carbon3D)
EnvisionTec
Origin.io
HP
Kappa
0.88
0.85
0.89
0.88
The prototypes had a range of 0-1 false positives and 1-2 false negatives.
"However, since control swabs are known to be an imperfect gold standard (< 100% sensitivity) and because PCR positives are more likely to reflect true infection than error, false positives were interpreted as identifying missed infections; indeed, false positives were referred to clinical care teams as clinically actionable, as per IRB protocol."
Statistically indistinguishable
In addition, cases that were discordant were always associated with high cycle threshold (Ct) values, reflecting low viral load, according to the researchers.
"Notably, none of the prototypes tested were flocked, yet their performance was statistically indistinguishable from the flocked control swab," the authors wrote.
Among the four various prototypes, the staff slightly preferred the HP swab, followed by the EnvisionTec and Origin.io swabs and then the Resolution Medical swab. The staff, although they slightly preferred the control swab over the HP swab, also described the HP swab as comparable.
The authors noted that the prototype swabs -- like the reference swab used in the study -- can be improved upon and that manufacturers are currently working toward that goal.
"Especially in a crisis, perfect is the enemy of good enough," they wrote.
Available for order
The validated swabs can be ordered at the consortium's website and several million have been used so far, according to the researchers.
With the changing nature of the pandemic, bottlenecks will likely continue to appear unpredictably, according to the researchers.
"The constant requirement is the ability to respond in a timely fashion under this extraordinary pressure," the authors wrote. "We hope our experience, based on past scientific work on cooperation and innovation, will provide a useful case study for how to iterate and produce a clinically validated medical device under the pressure of an ongoing pandemic, work on which others will hopefully improve as we continue to fight COVID-19 together."