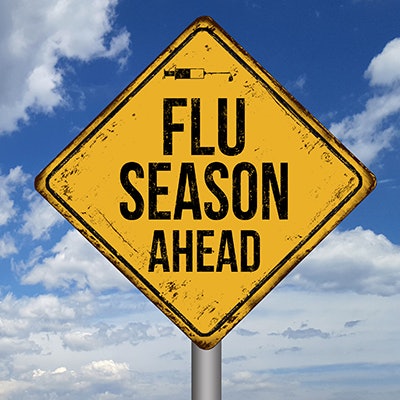 Only a third of parents believe that the flu vaccine will be more important this year, and 1 in 7 parents will not vaccinate their child due to concerns about COVID-19, according to the results of a new poll. The poll results underscore concerns that there could be a double impact of seasonal flu and COVID-19 this winter.
The University of Michigan's C.S. Mott Children's Hospital National Poll on Children's Health (Mott Poll) surveyed close to 2,000 U.S. households with children. The results are troubling given that public health experts, who are concerned about the double impact of flu season and the COVID-19 pandemic, have emphasized the importance of seasonal flu vaccines.
The flu vaccine is essential for protecting individuals and communities from vaccine-preventable diseases and outbreaks and for reducing the impact of respiratory illnesses in the population and the resulting burdens on the healthcare system during the COVID-19 pandemic, according to the website of the U.S. Centers for Disease Control and Prevention (CDC).
"We may see peaks of flu and COVID-19 at the same time, which could overwhelm the healthcare system, strain testing capacity and potentially reduce our ability to catch and treat both respiratory illnesses effectively," said Sarah Clark, Mott Poll co-director, in a press release.
The CDC currently recommends that "everyone [6] months and older should get a flu vaccine with rare exceptions." Influenza has led to 12,000 to 61,000 deaths a year since 2010, according to CDC estimates.
"Children should get the flu vaccine not only to protect themselves but to prevent the spread of influenza to family members and those who are at higher risk of serious complications," Clark said.
Many parents who are reluctant to vaccinate their children against the flu cited concerns about side effects or beliefs that the vaccine isn't necessary or effective, which experts insist are misconceptions.
"There is a lot of misinformation about the flu vaccine, but it is the best defense for children against serious health consequences of influenza and the risk of spreading it to others," Clark said.
In good news, the survey also showed many parents do vaccinate their children against the flu every year. Of the parents who said their child got a flu vaccine last year, nearly all (96%) intend to vaccinate this year as well. In contrast, of the parents whose children did not get a flu vaccine last year, less than a third said their children will probably get a flu vaccine this year.
"A key challenge for public health officials is how to reach parents who do not routinely seek seasonal flu vaccination for their child," Clark said. "When getting a yearly flu vaccine is not a pattern, parents need to be prompted to think about why it's essential for their child to get vaccinated."
The survey also showed that families are more likely to get a child vaccinated against the flu if the child's regular healthcare provider strongly recommends it. However, in the wake of the COVID-19 pandemic, many healthcare providers have limited the number of in-person visits, which may reduce opportunities for providers to recommend the flu vaccine and answer parents' questions about its safety and effectiveness.
"Our report finds that even during the pandemic, some parents don't see the flu vaccine as more urgent or necessary," Clark said. "This heightens concerns about how the onset of flu season may compound challenges in managing COVID-19."