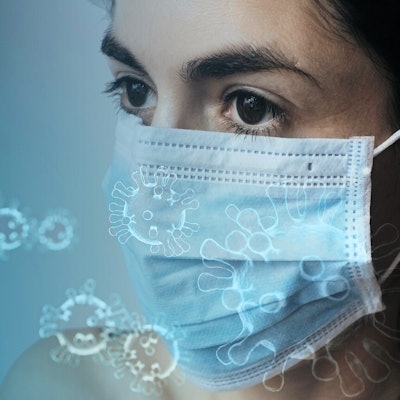 Mask-mouth syndrome may result from using a face mask for prolonged periods. Researchers examined how wearing a face mask affects one's oral hygiene in a study published on November 26 in Clinical Epidemiology and Global Health.
At the onset of the COVID-19 pandemic, mandatory mask use has been instituted in many places around the world. Mask-mouth syndrome has been a commonly reported side effect, particularly among healthcare providers. While mask-mouth syndrome may result from using a face mask for prolonged periods, researchers still believe that the benefits of wearing a mask outweigh the potential dangers of mask-mouth syndrome.
"Wearing a mask may alter the kind and quantity of microorganisms in your mouth, which can lead to plaque build-up and dental issues," wrote the study authors, led by Muhammad Muzzamil of the Health Services Academy in Islamabad, Pakistan. "However, proper oral hygiene helps avoid dental disorders, particularly periodontal disease and dental cavities."
A survey of 400 people was conducted between February and May 2022. The sample represented a cross section of society in terms of demographic characteristics such as age, gender, occupation, and other criteria. Survey results were analyzed, and a descriptive analysis was used to examine the responses.
Of the survey respondents, about 45% were men and 55% were women. The average age of the study's participants was 27 years old, although the respondents ranged in age from 18 to 50. Nearly all (99%) of respondents reported wearing face masks.
About half (48%) reported feeling uncomfortable using face masks, and about 61% favored disposable face masks as the best option. About 47% of respondents reported halitosis as a negative effect caused by mask use. Approximately 64% reported experiencing dehydration.
Extended use of a face mask can reduce metabolic heat loss, the authors wrote. Wearing face masks may cause side effects such as a reduction in airflow, an increase in perspiration, and an increase in warmth around the mouth.
"This reduces the pH in the mouth, making it seem like the mouth is healthy even when there may be a problem," Muzzamil and colleagues wrote.
Since the start of the COVID-19 pandemic, dentists have reported an increased number of patients who are concerned about halitosis, rotting teeth, and bleeding gums. Many patients who have been wearing masks for more than a few hours complain of bad breath and dry mouth.
Mask-mouth syndrome can be alleviated through a variety of low-cost and noninvasive methods. The study's authors recommend that oral health concerns be identified and treated to prevent mask use from being discouraged, as the risks of mask-mouth syndrome do not outweigh the benefits of wearing a mask.