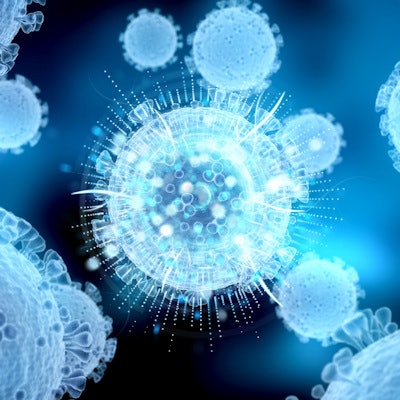 Researchers have demonstrated for the first time that the immunoinflammatory response of COVID-19 in oral tissue is distinct and may play an important role in regeneration after infection.
A group led by Dr. Kevin Byrd, PhD, of the ADA Science and Research Institute reported the findings, which were based on spatial multiomic analyses using tongue tissue samples taken from control and COVID-19-positive patients. The goal of the investigation was to understand cell-type-specific and spatial regulation of innate and acquired inflammatory responses during acute COVID-19 infection.
First, the researchers performed autopsies on control and COVID-19 subjects. They then developed a panel of 43 mucosal, stromal, vasculature, and immune markers optimized for highly multiplexed immunohistochemistry combined with in situ hybridization. Images were segmented and phenotyped using manual, automated, and unsupervised methods.
According to a comparative analysis, seven of 10 taste papillae from COVID-19 autopsied subjects harbored SARS-CoV-2 in the barrier epithelia, and the majority displayed neural degeneration and mild to moderate inflammation. In addition, salivary glands also displayed mild to moderate inflammation, with a shift to adaptive immune responses resulting in sialadenitis, according to the researchers.
While immune responses across COVID-19 tissues were diverse within each niche, when compared to glands, immune responses of the taste papillae microniche were characterized by less overall cellular complexity. Immune profile complexity and adaptive immune profiles by niche were directly influenced by time since diagnosis and local infection/replication burden, the group found.
"This is the first study to demonstrate and compare the immune consequences of SARS-CoV-2 in geographically distinct oral tissues," the International Association for Dental Research said in a news release.
The research was presented during the annual meeting of the American Association for Dental, Oral, and Craniofacial Research and the Canadian Association for Dental Research in Portland, OR.