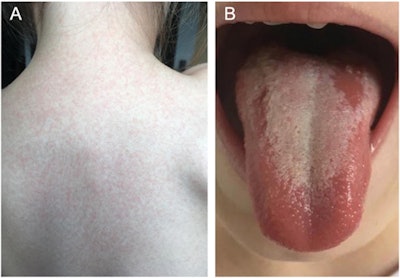 Images courtesy of Dr. Zuzanna Ślebioda. Licensed by CC BY 4.0.
Due to a resurgence in scarlet fever cases in Europe and the U.S., dental teams should know the symptoms, since they may be the first to notice the early orofacial signs of the bacterial infection, according to a review that was published on April 14 in the International Dental Journal.
In addition to knowing the signs, like a strawberry-like appearance on the tongue, oral health professionals should maintain a high degree of vigilance when assessing patients, particularly children, the authors wrote.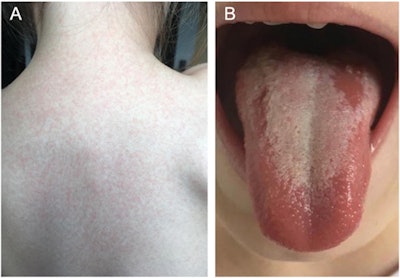 "Dental practitioners should be aware of the early symptoms of scarlet fever for infection detection, emergency patient management, and appropriate referral," wrote the authors, led by Dr. Victor Haruo Matsubaro of the University of Western Australia in Perth.
Scarlet fever is caused by Streptococcus pyogenes and results in more than 500,000 deaths worldwide annually. Usually, superantigens secreted by this group A Streptococcus (GAS) overstimulate a person's immunity, causing an amplified hypersensitivity reaction that results in early symptoms, including sore throat, high fever, a sandpaper-like rash, and a "strawberry tongue." Though anyone can get scarlet fever, it is often seen in children between the ages of 5 and 15. Early diagnosis and treatment are necessary to prevent the development of local and systemic sequelae, including acute rheumatic fever and endocarditis, according to the study.
In January, the American Society of Microbiology acknowledged that scarlet fever cases have been on an upswing in Europe and the U.S. since September 2022. Unlike other outbreaks, this one, which occurred during the COVID-19 post-pandemic period, didn't occur with typical seasonality and came with higher mortality rates.
Though the potential causes of these outbreaks of scarlet fever remain unclear, some health experts believe social distancing measures implemented during the pandemic may have interrupted the disease. Additionally, health professionals have hypothesized that young children's lack of exposure to GAS during COVID-19 lockdowns may have weakened their immune responses against it, according to the study.
To identify cases of scarlet fever and curb the spread, dental teams should do the following:
Be alert to the occurrence and peaks of scarlet fever outbreaks in their communities and maintain an appropriate index of suspicion.

Create a

management plan for patients with suspected cases and display it in a prominent area.
Defer elective surgical procedures for patients with scarlet fever until they fully recover.
Approach public health entities or a patient's doctor for advice on the immediate management of cases.
Take additional precautions, like wearing respiratory masks, to protect against aerosols when working on patients with suspected scarlet fever.
Suspected patients should be treated at the end of a clinical session and the area should be disinfected afterward.
"Early detection of probable cases and appropriate management, as outlined above, will prevent not only further disease spread but also lifelong debilitating sequelae for the affected patient," Matsubaro and colleagues wrote.