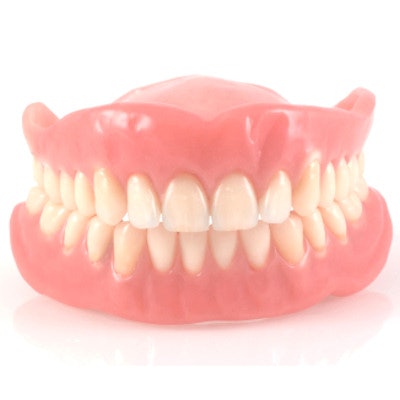 While keeping dentures clean can be a challenge, it is important for a patient's oral health to try to eliminate Candida albicans biofilm that grows on these appliances. A new study tested three denture cleansers on three different denture resins to find out how effective they are against this fungus.
The researchers reported that while none of the three cleansers eliminated C. albicans entirely, they found that one alkaline peroxide cleanser and one neutral enzymatic peroxide cleanser were effective on any resin material used for the appliance.
"Our finding suggested that the Polident 3 Minute and Corega tablets are suitable for patients who use any denture resin types," the authors wrote (Journal of Applied Oral Science, January 18, 2018).
The lead study author was Dr. Yeliz Hayran, an assistant professor in the department of prosthodontics in the Faculty of Dentistry at Gaziosmanpaşa University in Tokat, Turkey.
Cleaning effectiveness
About 120 million people in the U.S. are missing at least one tooth, and 36 million people do not have any teeth, according to the American College of Prosthodontists. The organization estimates that 15% of the edentulous population in the U.S. wears dentures.
An issue for denture wearers is avoiding denture stomatitis, a common infection of the oral mucosa. Candida albicans plays a role in this infection, the study authors noted. Once C. albicans is established on dentures, it is difficult to remove, as the surface of the denture base provides an ideal environment for biofilm formation.
The researchers wanted to measure how effective three denture cleanser tablets were against C. albicans biofilm on three different denture resins.
They made denture specimens using two types of heat-polymerized polymethyl methacrylate (PMMA) resins, Acron Hi (Kemdent) and the QC-20 (DeguDent), and one type of thermoplastic polyamide resin, Deflex Classic SR (Deflex) (n = 45 per resin). The researchers standardized the surface-roughness of the denture specimens (0.32 ± 0.02 µm), then grew C. albicans biofilm on all specimens.
They then treated all the resins according to the manufacturers' instructions by three cleansers:
Corega (GlaxoSmithKline) is an alkaline peroxide denture cleanser solution.
Fittydent (Fittydent) is an alkaline peroxide denture cleanser solution. In the U.S., Fittydent is known as Secure antiplaque cleansing tablets (Bioforce USA).
Polident 3 Minute (GlaxoSmithKline) is a neutral enzymatic peroxide denture cleanser.
The researchers used a scanning electron microscope to compare the efficacy of different cleansers against the C. albicans biofilm.
None of the denture cleanser tablets was able to remove the C. albicans biofilm completely. The Polident 3 Minute and Corega tablets inhibited the proliferation of C. albicans on all three resins, using about two tablets per 150 mL of water, the researchers reported. However, Fittydent had anticandidal effects on the Deflex Classic SR resin at 2.5 tablets per 150 mL of water, they noted.
Specifically, the anticandidal activity of the Corega cleanser was greater on the Acron Hi and Deflex resins compared with Polident 3 Minute and Fittydent cleansers. Polident 3 Minute had the lowest effective concentration needed for anticandidal activity on the QC-20 resin (see table below; a lower number is better).
Lowest effective concentrations of cleansers against C. albicans
Corega
Fittydent
Polident 3 Minute
Resin
Alkaline peroxide
Alkaline peroxide
Neutral enzymatic peroxide
Acron Hi
30.42 mg/mL
(2 tablets)
74.89 mg/mL
(4.5 tablets)
37.62 mg/mL
(2.5 tablets)
Deflex Classic SR
27.37 mg/mL
(2 tablets)
38.19 mg/mL
(2.5 tablets)
36.44 mg/mL
(2.5 tablets)
C-20
30.52 mg/mL
(2 tablets)
64.41 mg/mL
(4 tablets)
22.78 mg/mL
(1.5 tablets)
Cleanser choices
While the authors did not list any study limitations, they noted that polyamide resin surfaces, such as with the Deflex Classic SR resin, generally exhibit a rougher texture compared with PMMA resins. This may lead to increased microbial flora and an attenuated effect of cleansers. They pointed out that surface roughness was standardized in their study.
The researchers recommended that Polident 3 Minute and Corega tablets can be suggested for patients who use dentures of any resin type, but the Fittydent tablet should be proposed only for those who use the Deflex resin.
"It was shown that anticandidal activity appears to be a function of the nature of the resins, their roughness, the type of cleanser, and the specific concentrations of the cleanser," the authors concluded.