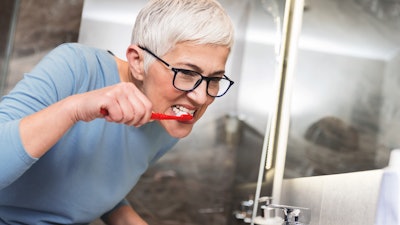 Brushing teeth for the recommended two minutes may not be enough to sufficiently remove cavity-causing plaque, according to an in vitro study published on April 10 in the International Journal of Dental Hygiene.
The optimal duration may actually be four minutes. However, more clinical studies are needed before toothbrushing recommendations can be changed, the authors wrote.
"Two minutes of brushing is not sufficient for significant plaque removal," wrote the authors, led by Dr. Mohammad Ali Saghiri of the Rutgers School of Dental Medicine in Newark, NJ.
Research has shown that caries of the permanent teeth affects between 60% and 90% of children. About 47% of adults in the U.S. have caries that can lead to severe periodontal diseases. Evidence also has shown that brushing and flossing effectively are the best ways to prevent dental diseases.
However, routine toothbrushing is not necessarily synonymous with a high standard of oral hygiene. Studies have indicated that between 40% and 50% of plaque remains on teeth after brushing, and one of the main causes of poor oral hygiene may be attributed to how long people brush their teeth, the authors wrote. Currently, the ADA recommends that people brush twice per day for at least two minutes.
To determine the effects of varying toothbrushing times, researchers sprayed black chalk on clean teeth in a typodont to demonstrate plaque accumulation. A rechargeable electric toothbrush was attached to a programmed robot and positioned at about 45 degrees to the tooth surface so that the teeth could be brushed.
Toothbrushing was done at intervals of 60, 120, 180, 240, 300, 360, and 420 seconds. No toothpaste or chemical cleaning agents were used during brushing. Additionally, photos were taken every 60 seconds and processed with image software to measure the percentage of remaining plaque, according to the study.
As brushing intervals increased, so did plaque removal (p < 0.05). After 240 seconds of brushing, sufficient plaque removal was achieved, and the mean amount of plaque that remained became homogenous and was no longer within the marginal error of 2.5%, the authors wrote.
The study had multiple limitations, including that it only measured brushing duration when examining plaque accumulations within the dentition. Other factors, including toothbrush choice and brushing force and technique, also affect plaque accumulation, they wrote. Considering the study limitations, more clinical research is needed in the future, the authors wrote.
"Brushing for 2 min did not achieve significant plaque removal," Saghiri et al wrote.