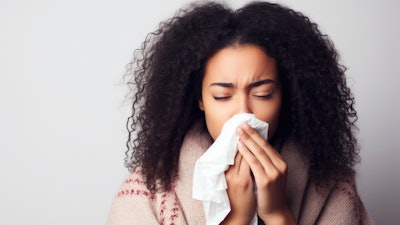 Only severe COVID-19 cases disrupt oral microbiomes, according to research published recently in EBioMedicine.
A team led by Abigail Armstrong, PhD, from Rutgers University in New Jersey found no significant differences in the oral microbiomes of people who were and were not infected with SARS-CoV-2. However, they found significant reductions in microbiome diversity among people with severe symptoms soon after they were infected (EBioMedicine, July 22, 2023, Vol. 94, 104731.)
The oral microbiome is active with both beneficial and harmful bacteria, harboring over 700 species. Armstrong and colleagues wanted to discern whether variations in the oral microbiome affected an individual's susceptibility to contracting COVID-19. They also wanted to investigate whether SARS-CoV-2 affected the oral microbiome and if greater changes in a person's microbiome predicted bigger developments later with problems like long COVID.
The team collected data from 831 healthcare workers and other community members over six months during the early days of the pandemic. The researchers regularly collected and tested the saliva samples of participants for signs of infection.
There was no evidence that some particular types of bacteria in the mouth and lungs -- or combinations of bacterium types -- offered protection against COVID-19, researchers said. They also reported few changes in people's microbiomes after they had mild to moderate cases of COVID-19.
There were, however, significant reductions in microbiome diversity among people with severe symptoms soon after infection, meaning that major events like serious illness and treatments change this resilient microbiome.
The researchers also observed significant differences when comparing people who had fewer than 30 days of symptoms with those who had more than 60 days of symptoms. They also reported that the oral microbiomes of people with shorter cases changed in consistent ways during infection, while those with longer duration cases changed in diverse ways. This particular finding suggests there might be a specific way that the oral microbiome shifts during infection that helps shorten symptoms.