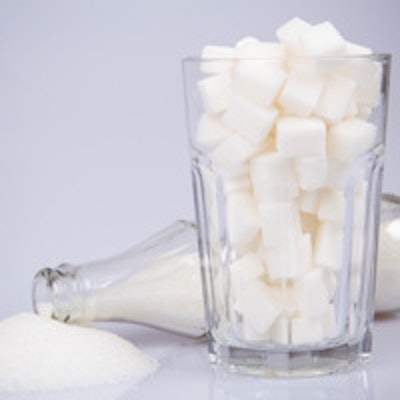 A new study has again linked sugar-sweetened beverage consumption to dental erosion. The authors of the Journal of the American Dental Association study found that Mexican adolescents who regularly drank sweet, carbonated drinks had significantly more erosive tooth wear.
The study is just the latest in a series that has repeatedly linked sugar-sweetened and carbonated beverages to tooth decay. The researchers evaluated various causes for erosive tooth wear in Mexican high school students, but they found that only a high intake of sweet carbonated drinks, xerostomia, and increased age had a statistically significant impact on dental erosion (JADA, February 2016, Vol. 147:2, pp. 92-97).
"Dentists should take into account the potential damage of sweet, carbonated drinks, not only for developing carious lesions, but also for the erosive effect on tooth structure," said study author Socorro Aída Borges-Yáñez, DDS, MPH, DrDent, in an interview with DrBicuspid.com. Dr. Borges-Yáñez is the oral public health coordinator for the division of graduate studies and research at the National Autonomous University of Mexico School of Dentistry.
What are the risks for erosive tooth wear?
Although erosive tooth wear is linked with dental longevity and aesthetics, no researchers have explicitly studied erosive tooth wear within Mexico, according to the authors. Dr. Borges-Yáñez and colleagues, therefore, set out to identify erosive tooth wear factors for high school students in Mexico City.
The researchers surveyed 417 students about various lifestyle factors, including age, acidic dietary intake, and toothbrushing habits. Then, one examiner evaluated the students for erosive tooth wear, according to the following scale:
0 - No evidence of erosion
1 - Initial enamel wear, deepest part of the lesion is white
2 - Deep enamel wear, yellow translucency throughout the enamel
3 - Exposed dentin, deepest part of the lesion looks yellow
If the examiner had any doubt, he or she chose the least classification.
The researchers found that, overall, 31.7% of students had some form of erosive tooth wear, with 10.8% experiencing exposed dentin. However, nearly 19% of students who consumed sweet, carbonated drinks at least four times per week had erosive tooth wear with exposed dentin, compared with just 8.3% of students with hardly any sugar-sweetened beverage consumption.
"Sweet carbonated drinks contain phosphoric acid and citric acid, and their PH is usually less than 4.0; therefore, their capacity to provoke erosive tooth wear is well-recognized," the authors wrote. "Moreover, the citric acid in sweet carbonated drinks may provoke calcium chelation, which results in mineral dissolution of the teeth."
The researchers also found students who experienced xerostomia at least three times per week were significantly more likely to have exposed dentin than those who experienced xerostomia two times per week at most. Erosive tooth wear was also significantly higher for students ages 17 to 19, than for those ages 14 to 16. However, what most surprised Dr. Borges-Yáñez were the factors that didn't influence dental erosion, including any other types of food or drinks, as well as oral hygiene.
"We were surprised by the lack of association of lemon with erosive tooth wear, because the Mexican diet is very high in acidic foods, including a high intake of lemon," she explained. "Some articles by Dr. Adrian Lussi mention that direct sucking on lemons poses the highest risk for erosive tooth wear."
What are the next steps?
The authors specifically noted that this study included a very specific sample size, and the results are not applicable to the whole population of Mexico, or even that of Mexico City. Other study limitations included the researchers' xerostomia measurements were not as comprehensive as they would have liked and that the study results could have been swayed by recall bias.
Dr. Borges-Yáñez and colleagues recommended similar studies dig deeper into how the frequency and amount of sugar-sweetened beverage consumption impact erosion, and they will be carrying out another study for measuring the incidence of erosive tooth wear in a larger group of Mexican adolescents. They also recommended that future studies look at saliva flow rate, pH, protein content, and buffer capacity.
"We hope this study can contribute to the evidence about the role free sugars play in the development of erosive tooth wear," Dr. Borges-Yáñez said, "and that this information will help policymakers to decide on the need of taking measures to reduce sugar intake and improve general and oral health promotion."