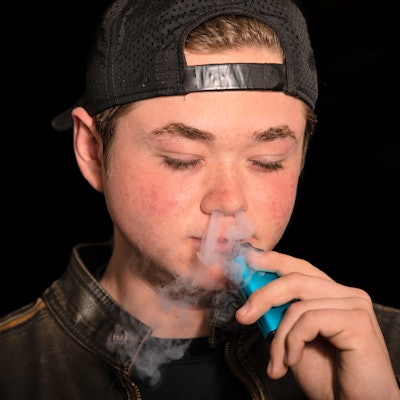 Vaping is associated with an elevated risk of oral health problems, including gum disease, dental decay, bone loss, and hairy tongue, according to a report released by the nonprofit CareQuest Institute for Oral Health.
Individuals who use e-cigarettes are significantly more likely to report having periodontal (gum) disease compared to those who do not smoke or use other nicotine products, according to the report. E-cigarette use is linked with signs of periodontal disease, such as increased plaque, deeper periodontal pockets around the teeth, and bone loss.
The report also noted the following:
Oral lesions such as nicotine stomatitis ("smoker's palate"), hairy tongue (discoloration of the tongue), and angular cheilitis (sores in the corners of the mouth) are common in the mouths of e-cigarette users.
There is growing evidence that individuals who use e-cigarettes have a higher risk of developing dental caries.
Although long-term evidence is limited, prolonged use of e-cigarettes may increase the risk of oral cancer.

The full report can be found on CareQuest's website.