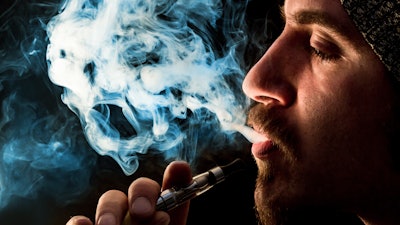 The European Federation of Periodontology (EFP) is warning that vaping electronic cigarettes is equally as harmful to one's gum and oral health as smoking traditional tobacco cigarettes.
The EFP cited evidence in its statement that suggests a link between e-cigarette use and poor gum and oral health. It added that individuals who vape are "often misled to think of e-cigs as somehow less harmful or even safe."
The EFP added that the presence of nicotine in e-cigarettes is a key factor behind vaping's negative impact on human health due to the restrictive effects it has on blood flow to the gums. It also noted that other chemicals present in e-cigarettes may increase damage to the mouth and gums, starting with progressive destruction of the periodontium.
Andreas Stavropoulos, chair of the scientific affairs committee and immediate past president of the EFT, said that a likely adverse effect of vaping is irreversible damage to the gums and tissues supporting the teeth. Treatment can be cumbersome and expensive, he said.
The EFP recommends that smoking cessation advice for both cigarettes and e-cigarettes alike be prioritized. This recommendation includes providing patients with information about the likely detrimental impact of vaping on gum and oral health.
The EFP is a nonprofit dedicated to promoting awareness of periodontal science and the importance of gum health for oral health professionals and the public.